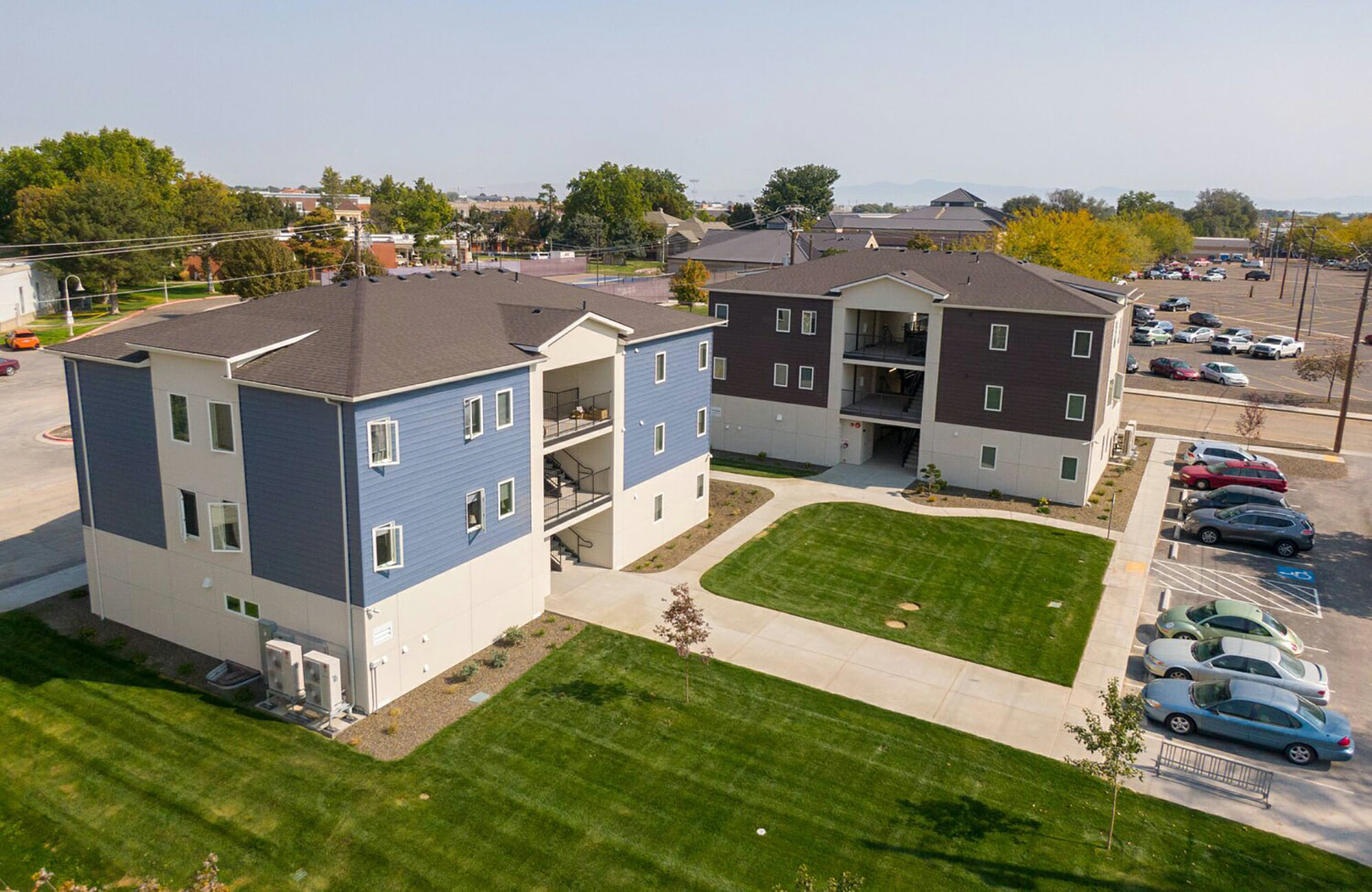 Main Category: Modular Building Design
Company: Lochsa Engineering
Affiliate: indieDwell
Location: Caldwell, ID
Building Use: Student Housing/College Dormitories
Gross Size of Project: 11520 Square Feet
Days to complete: 239
Award Criteria
Architectural Excellence
The building layout is fairly straightforward in design. It is 3 stories, with the main floor consisting of a common area with a full kitchen, a laundry facility, and wheelchair accessible dorm rooms. The dorm rooms on the second and third floors contain 5 single bedrooms each, with two private bathrooms. Kitchenettes, energy-efficient appliances, HVAC system, including a full-size refrigerator, and quartz countertop. The interior finishes consist of water-based, no VOC paint throughout, along with quartz counters, beautiful high-quality vinyl flooring, and efficient windows, and high-density insulation and LED lighting throughout. The exterior consists of traditional stucco, along with steel lap panels, and looks like a completely traditional build.
Technical Innovation & Sustainability
The College of Idaho's innovative and sustainable modular dorms are the first in the nation to be made from decommissioned shipping containers. Each building has 27 beds, and are constructed from 36 shipping containers. The two separate dormitory halls are named Sawtooth and Owyhee to recognize significant geographic areas in Idaho. One of the primary focuses of this project design was to create an environment with energy efficiency and clean air. Each suite comes with its own router for the best internet connection possible. The paint throughout is water-based and contains no volatile organic compounds (VOCs) – these compounds can easily become vapors or gases. Each suite also includes a small AC/Heating unit that takes air from the outside and filters it for the cleanest possible air inside. Each building includes energy-efficient appliances, HVAC systems, high-density insulation, and LED lighting throughout.
Cost Effectiveness
"This residential housing solution provides exceptional living space for our students and is consistent with the College's desire to support the sustainability of the environment. Combining these factors with the overall economics, the new housing project fits perfectly into our residential housing program," said Richard Erne, Vice President for Finance and Administration. The cost per bed of an indieDwell complex is roughly half the cost of a large-scale conventional dorm construction and can be completed in less than half the time. The capability to design and build a dormitory facility like this, with time and budget constraints, was obviously appealing to the college, and therefore initiated the final result. Utilizing a product such as an otherwise discarded shipping container allows for the reduction in other building materials, such as cement and steel. This in turn reduces overall construction cost, CO2 emissions, as well as, decreasing the number of containers in landfills.
See More Awards of Distinction Winners