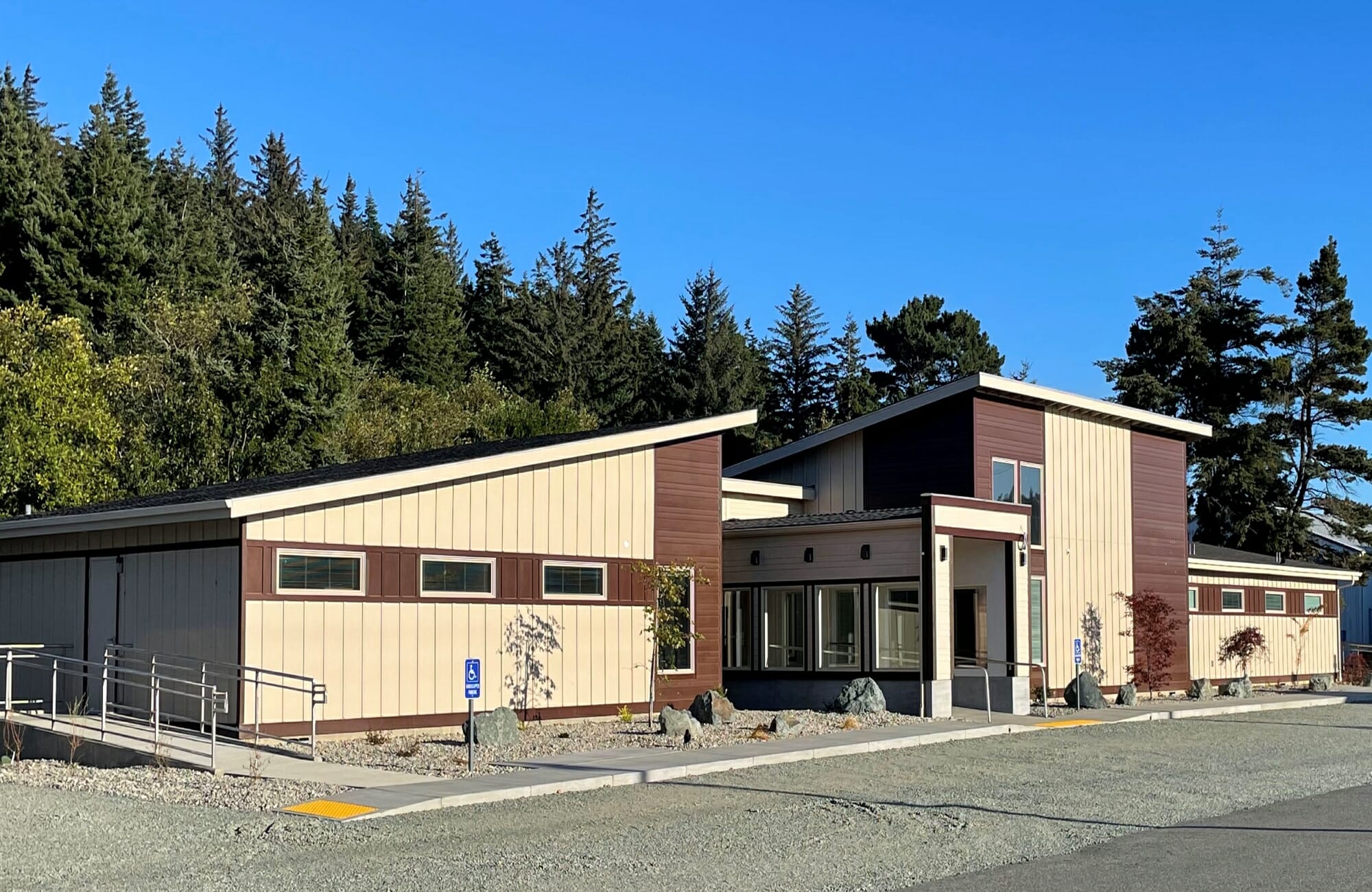 Main Category: Modular Building Design
Company: Modern Building Systems, Inc.
Location: Port Orford, OR
Building Use: Community Health Clinic
Gross Size of Project: 4730 Square Feet
Days to complete: 175
Award Criteria
Architectural Excellence
Located in the very remote southern Oregon coast town of Port Orford, Modern provided Coast Community Health a federally funded nonprofit healthcare provider with buildings to serve the community. These new buildings are the only medical, dental, pharmacy, and unsheltered population support services in the area. The main health clinic building totals seven modules for 4,730 sq. ft. And the community outreach building is two modules 1,120 sq. ft. The alternating mono slope roof designs were designed to mimic the look of waves of this ocean town. The mix of different siding lap, board batten, and panel systems mixed with bolder earth tone colors are seen in the area's high rock sea cliffs mesh well into the town scene. Modern design staff spent numerous hours and iterations with executive staff, nursing staff, and doctor staff to get just right and provide all the many necessary and desired spaces in a functional efficient space given the limited building footprint allowance.
Technical Innovation & Sustainability
The main lobby of the clinic building contains high sloped ceilings utilizing hinged trusses, complete with a 17' high wall filled with glass to bring in the abundant west-facing sunlight. Panelized knee walls were shipped to the site and placed in as the crane held up the hinged truss to quickly complete structural and dry in, in a matter of minutes during a wet winter day. Due to the wet salty air coastal conditions, Modern utilized advanced WRB details and products to provide a quality long lasting building asset. The project site could not provide the required water flow for a sprinkler system, so a mix of locations and fire-rated wall and ceiling types were needed. A mix of traditional split mechanical systems and ductless mechanical systems were used in the non-rated and rated spaces thereby simplifying the system complexity, components, and costs.
Cost Effectiveness
Coast Community Health was the recipient of special federal funding that required a facility to be operational in a short period. With no existing commercial space in town and due to the remote location with limited contractor services, factory-built construction was the go-to building technique for project success and cost feasibility. Modern as a factory-direct modular provider, performed all project aspects in-house, resulting in cost savings for our client.
See More Awards of Distinction Winners