City of Cottonwood Shores Police Department Headquarters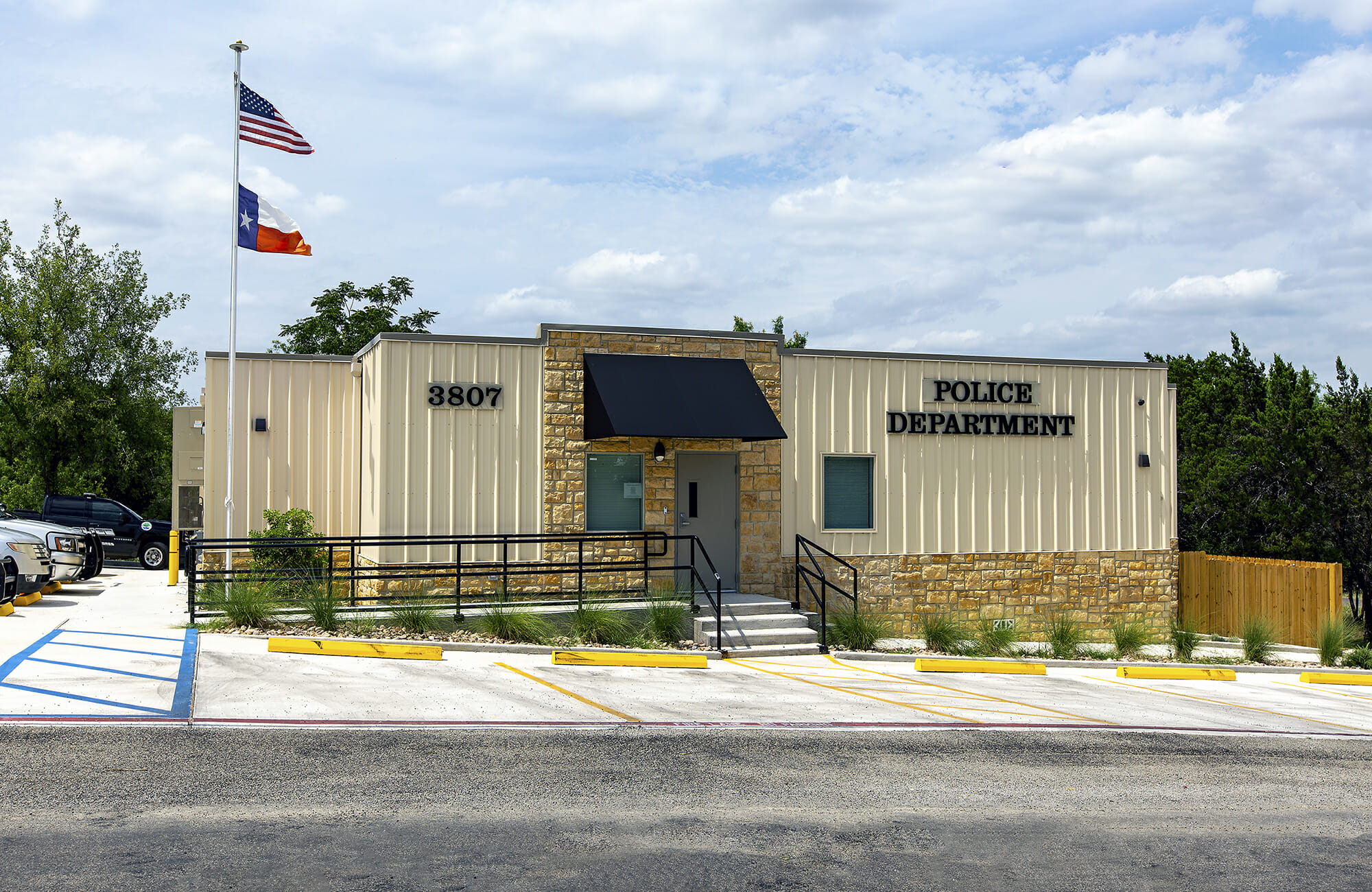 Main Category: Modular Building Design
Company: Ramtech Building Systems, Inc.
Affiliate: 
Location: Cottonwood Shores, Texas
Building Use: City Police Department Headquarters
Gross Size of Project: 2184 Square Feet
Days to complete: 135
Award Criteria
Architectural Excellence
This new building provides two private offices for the chief of police and the second in command of the police department. Also included is a large open office area for patrol officers, one intake and two interrogation rooms, a large evidence storage room, I/T room, file storage room, a break room, restrooms, and janitor's closet. Finishes were selected with security and durability in mind. Interior wall covering is a textured and paint finish over impact resistant gypsum. Flooring is resilient vinyl tile throughout. Ceilings are painted gypsum in intake and interrogation rooms, with acoustical lay-in tile in all other areas. The exterior is a parapet wall design combining ribbed steel panels with a masonry wainscot. To provide articulation and massing, the center assembly area projects both up and out. A steel and fabric canopy protects and draws attention to the building's main entrance.
Technical Innovation & Sustainability
Using Ramtech's Pier and Beam Permanent Modular Building System, the modules were place atop an 8" stem-wall constructed over spread footings. The Texas Hill Country location provided a limestone shelf for the footings less than two feet below the surface assuring a stable foundation for the structure. The building utilizes Type Vb construction. Since this is a police facility, the security and safety of the occupants and officers is paramount. To facilitate this, 8 security cameras were placed throughout the facility as well as door and window alarms with monitoring and status boards in the police chief's office. The evidence storage room is protected by #9 wire mesh beneath the sheetrock and a 14 gauge steel door and frame with digital cypher lock.
Cost Effectiveness
As with all small rural communities, Cottonwood Shores began the project with a modest budget. This was further exacerbated by the city land slated for construction. The designated lot had a significant slope requiring an extensive stem-wall foundation on three sides of the building. We were able to balance the site somewhat allowing for grade-level entries, however with that, much of their budget was eaten up by site work. To get the project back on budget, during design, value engineering was applied to every facet of the construction. Selections covering exterior and interior finishes to building systems (mechanical and electrical) all faced considerable scrutiny to get the initial project cost lower. By making wise decisions combined with the efficiencies of modular construction, we were able to bring the project to fruition under the City's budget. While no sustainable rating system was applied, the Owner wished to incorporate as many sustainable features their budget would allow.
See More Awards of Distinction Winners