Cherokee Lane Elementary School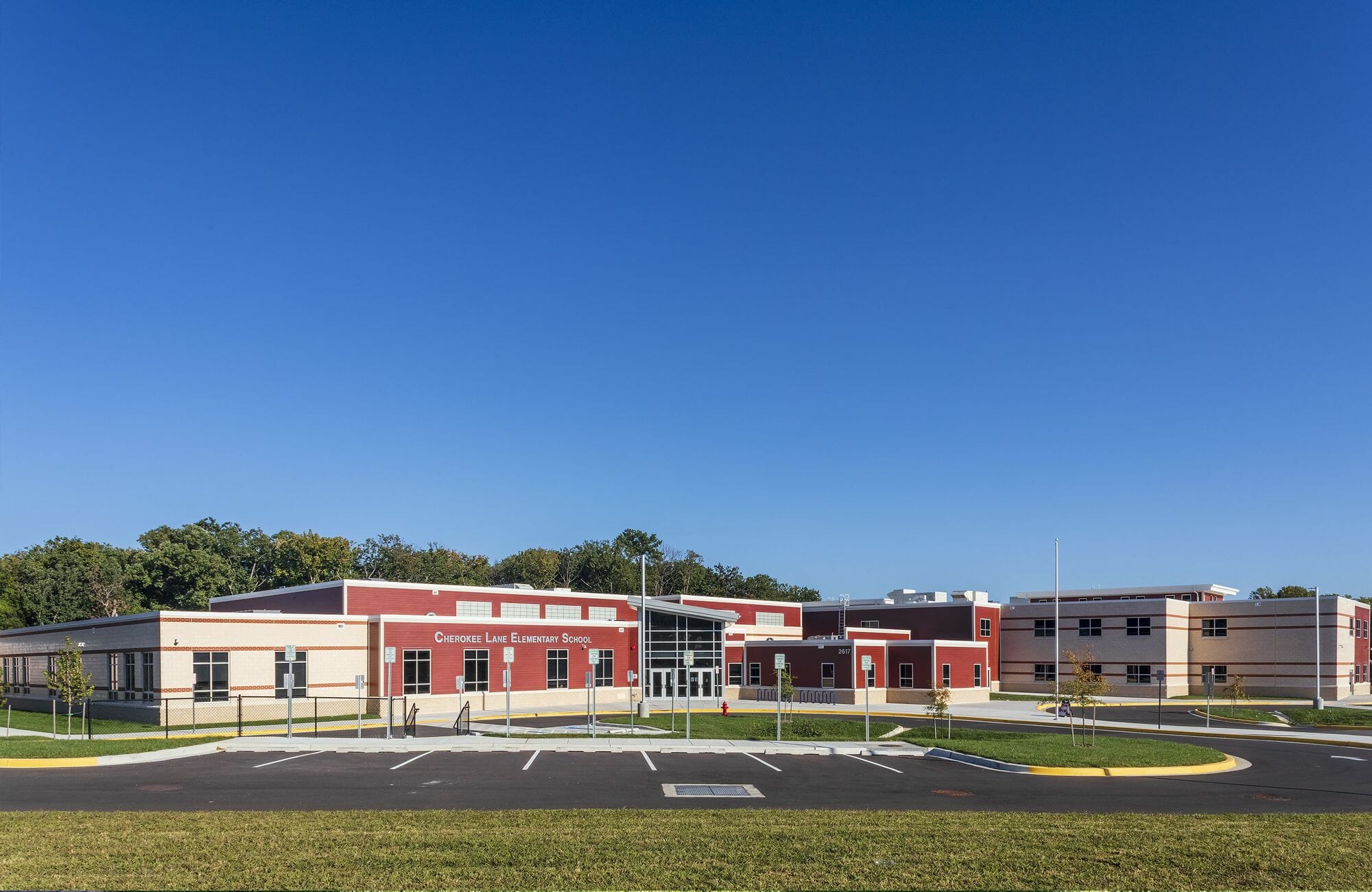 Main Category: Modular Building Design
Company: MODLOGIQ & Providence Engineering Corp.
Location: Adelphi, MD
Gross Size of Project: 95827 Square Feet
Days to complete: 710
Award Criteria
Architectural Excellence
Expansive open learning spaces with 25-foot ceilings and extensive natural skylighting provide aesthetics that support a rich learning environment. Daylighting from large windows throughout the classrooms and offices further contribute to a bright, open atmosphere. Custom millwork in admin offices, nurse station, classrooms, etc. provides maximum functionality and attractive storage space. Colorful ceramic tile for the restrooms—installed at the plant—add charm and warmth. For this hybrid project, BIM provided seamless integration between site-built structures (monumental entrance, staircases, gymnasium, etc.) and permanent modular classrooms, open learning spaces, admin offices, etc. and allowed the exterior of colored brick, textured block, and redwood style panels—completed at the site—to create an inviting, cohesive appearance that blends beautifully with the surrounding trees of the neighboring park.
Technical Innovation & Sustainability
Custom "high-hats" were developed to provide the expansive 25-foot ceiling heights in the open learning spaces. To create higher overhead clearances in hallways, the 1st-floor modules were left "open top" so that their ceilings are created by the floors of the 2nd story modules that sit atop them. Building upon this design/engineering innovation, BIM and advanced clash detection was used to optimize the configuration of the complex overhead MEP and fire suppression piping/systems, further maximizing ceiling clearances. As noted earlier, the use of BIM enabled precise integration between site-built structures and modules built offsite. This made it possible for MODLOGIQ to start off-site construction before site preparation work began. This "head start" was critical to maintaining the original aggressive schedule, as permitting issues delayed the onset of site work. These permitting delays would have created substantial schedule issues if this had been a conventional site-built project.
Cost Effectiveness
The project was delivered on budget with minimal change orders, despite permitting delays at the site that likely would have increased expenses if this had been a conventional site-built only project. However, the potential additional costs due to delays were almost entirely mitigated through the use of off-site construction. The use of BIM increased efficiency in ordering materials to support cost effectiveness. It also allowed MODLOGIQ to purchase steel pre-cut to precise lengths, making fabrication much more efficient. All of this meant greater productivity and much less waste—which not only helped control expenses, but also enhanced the sustainability of the project.
See More Awards of Distinction Winners