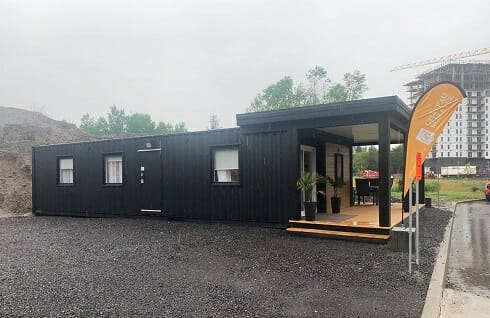 Main Category: Modular Building Design
Company: Corner Cast Construction Inc.
Location: Quebec City, Canada
Building Use: Condo Sales office
Gross Size of Project: 800 Square Feet
Days to complete: 16
Award Criteria
Architectural Excellence
Corner Cast was asked to provide an appealing condo sales office with minimal budget and only 2 weeks delivery time. The solution was found by re-using two former office units with an autonomous toilet system, that were able to create the look and functionality required. To achieve the overall look and feel of the condominium development, while largely conserving the existing interior finish, accents were brought on with new trims, a separation screen, faux wood beams and matching interior doors. This, in combination with a new hardwood floor laid in a large herringbone pattern throughout both units, gave the desired modern and warm feel to the interiors. For the exterior appearance, the original exterior was conserved. However, by re-painting the modules black and adding an 8' x 20' portico, the focus was brought the main entrance, providing a visually attractive frontage.
Technical Innovation & Sustainability
The original modules were fabricated by recycling 2 x 40' HC used containers. The interiors were completed with high efficiency LED lighting zone D certified windows and energy star rated ventilation systems. All these elements were preserved in order to ensure thermal comfort & low operational costs. The autonomous plumbing system makes the units extremely flexible for different usages and can be placed in any location. The main driver for this renovation project, was the lead time. The units were redesigned and renovated within 2 weeks in the factory in Montreal and then transported to site for a total construction time of less than 3 weeks. The installation of the complex was done on standard, recycled 2'x2'4' concrete blocks, making it very easy to re-locate. Once the construction of the condo development is complete, the units can be easily disassembled. Due to the structural integrity of the Corten steel the shipping containers can be re-used for many years to come.
Cost Effectiveness
By re-using an existing steel structure and its interiors, the client was able to have a working sales office within 3 weeks, saving the customer money & moving the project forward without delay. This process was completed without making any concessions to the look, and therefore the client was able to offer an attractive space for condo sales to their prospective clients.
Project History
Corner Cast originally designed and manufactured these two 40' shipping container units with an autonomous toilet system to be used as relocatable, low budget office space in 2012. After being used for several years, the modules were turned into a library for a local elementary school, where it needed to be adjusted to all safety standards and universal access of a public space and welcome up to 20 children for reading classes. In 2021 the same container units changed functionality again, and were quickly turned into a spectacular sales office.
See More Awards of Distinction Winners