The Catholic University of America Modular Office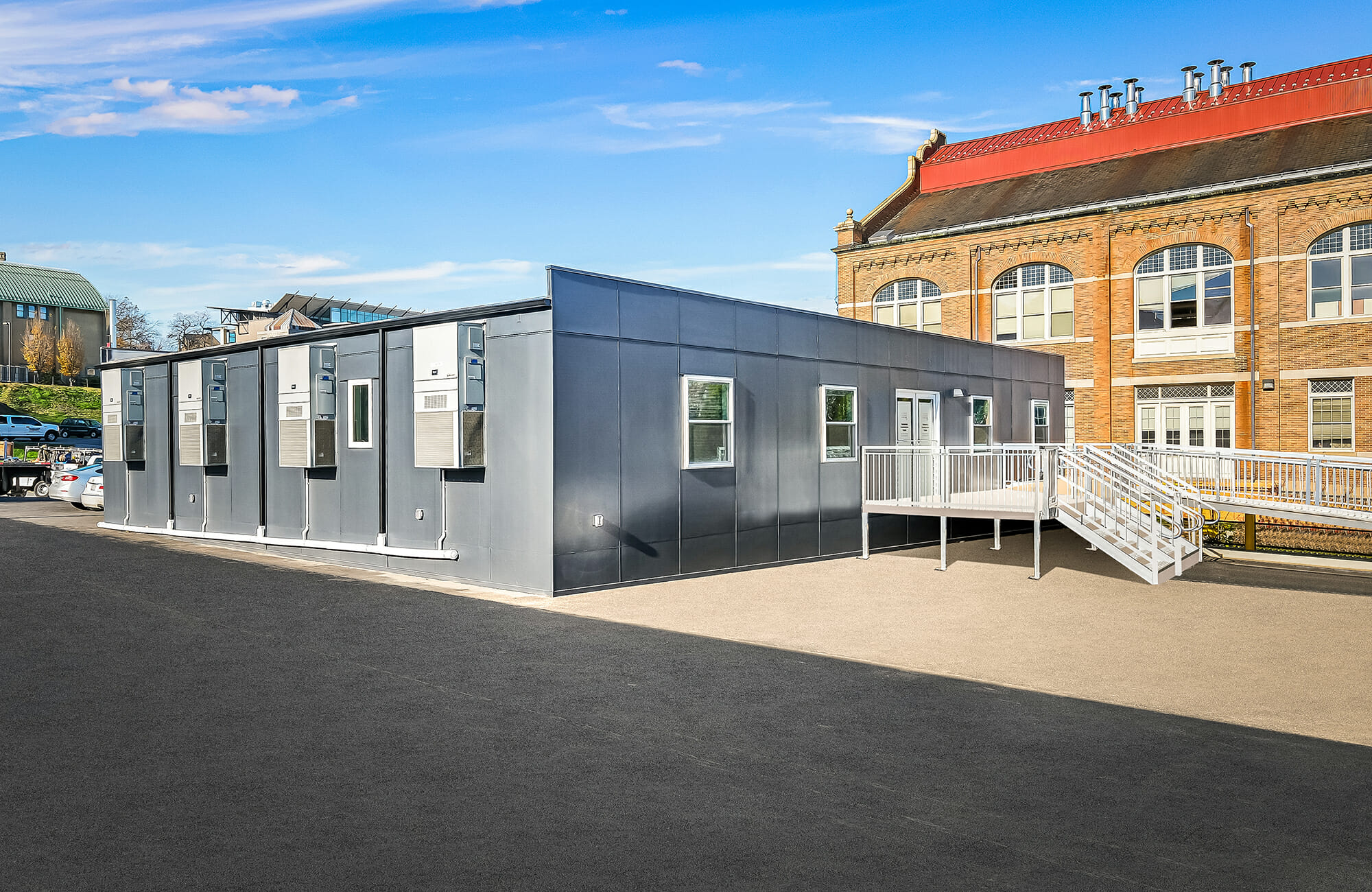 Main Category: Modular Building Design
Company: Modular Genius, Inc.
Affiliate: Southeast Modular Manufacturing, Inc.
Location: Washington, DC
Building Use: Prefabricated Office
Gross Size of Project: 2880 Square Feet
Days to complete: 126
Award Criteria
Architectural Excellence
The Catholic University of America needed temporary office space for their facility team during the construction of a new power plant for the campus. The building comprises of four 12 x 60 modules. Inside there is a large open work & meeting area, 9 offices, lounge Area, breakroom, mechanical room, and ADA restrooms. The exterior siding is Hardi siding with metal extrusions. Low E Insulated Windows will help to reduce utility costs. Planning rationale was solely focused on allowing the facilities and construction team to be able to work daily without site interruptions. Additionally, the dark exterior was to allow the building to blend into the surrounding Power Plant.
Technical Innovation & Sustainability
The buildings specifications included a combination of double hung and casement windows, double commercial glass doors, solid core interior doors, 2' x 2' acoustical tiles with recessed LED lights, pendent lighting, and recessed emergency lights. Whisper Value exhaust fans were installed in the restrooms. The large open area was designed to a higher live load capacity to accommodate large metal file cabinets. Recycled insulation was installed in all exterior and interior walls. Gutter and downspouts were connected to an existing drainage system to ensure a safe, ice free area around the building during winter. A custom designed exterior platforms, steps and ramp to accommodate the tight site conditions surrounding the building and power plant.
Cost Effectiveness
CUA office was designed using modular manufacturing standard for materials, which reduced overall costs to the client. The building was installed on grade using ABS pads with dry stack CMU block. This building will need to be relocated in 4-5 years and this installation methodology reduces site disturbance and reduces cost during the dismantle at the end of the project. The acoustic ceiling was installed at the factory to the mate line allowing a simple trim piece to be installed which reduced installation time and will minimize the work required to dismantle the building in 4-5 years. Modular Genius partnered with Upside Innovations to design and installed the aluminum deck, steps, and ramp. By using this system, the client will be able to reuse the system when they relocate the building.
See More Awards of Distinction Winners