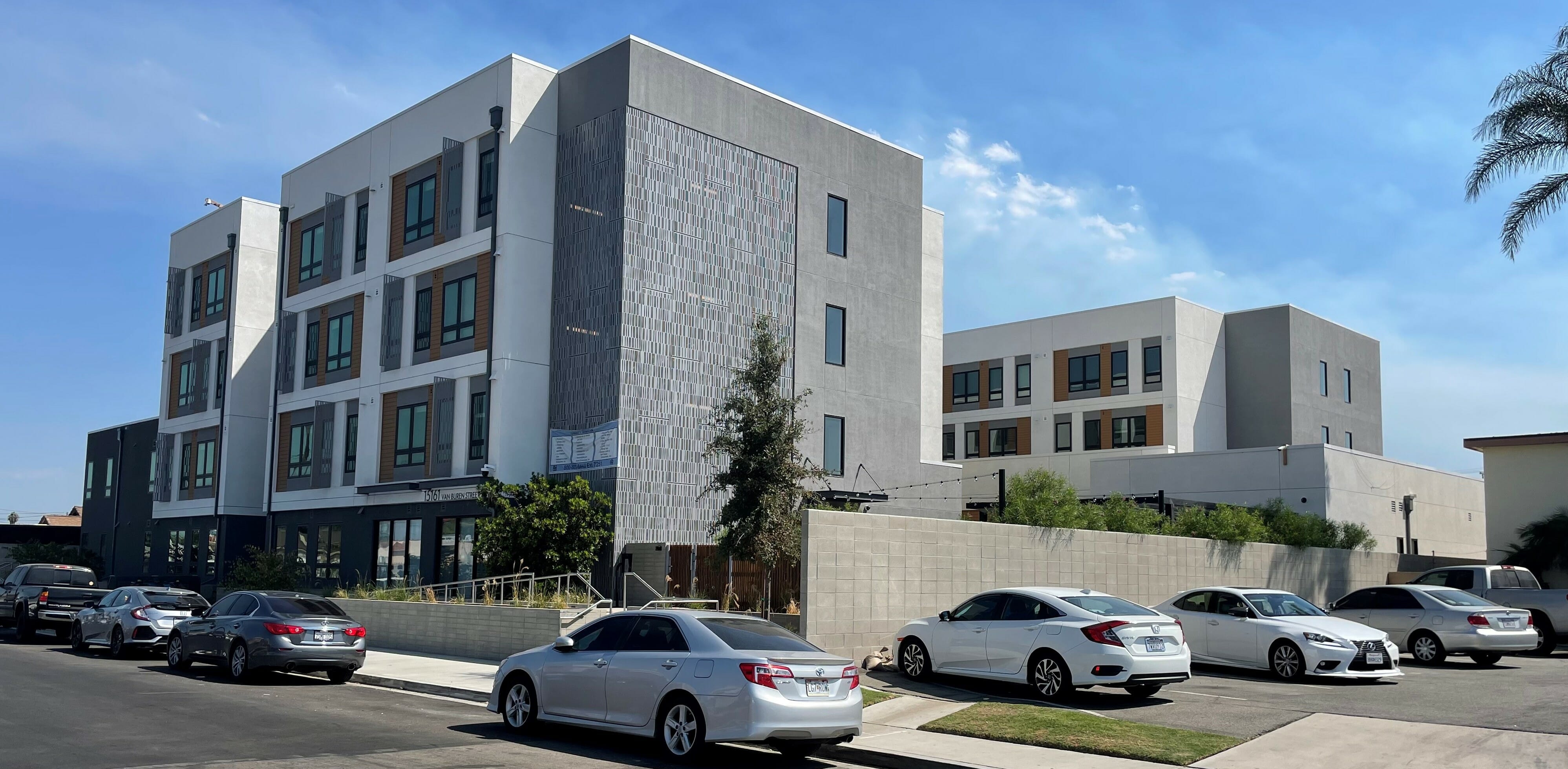 Company: Nashua Builders, Axiom Engineering Group & Acc U Set Construction, Inc.
Location: Midway City, CA
Gross Size of Project: 64636 Square Feet
Days to Complete: 478
Award Criteria
Architectural Excellence
Casa Paloma, a new development from American Family Housing billed as Orange County's first affordable housing developments built with prefabricated modular units. Located on a 1.12 acre property at 15161 Van Buren Street, Casa Paloma consists of a four-story building which features 71 apartments between 600 and 900 sq.ft in size including 2 manager's apartments, 48 units of permanent supportive housing and 21 income-restricted units to cater to households earning up to 50 percent of the area median income. KTGY was designed Casa Paloma, centered on multiple private courtyards, providing open space and natural lighting for residents. Integrating Housing & Healthcare. This beautiful residential community in Midway City, CA provides a mix of both supportive housing and affordable housing. Developed in a first-ever partnership of its kind with the County of Orange and with CalOptima, many of the homes in this innovative community will be homes for high-utilizers of the healthcare system.
Technical Innovation & Sustainability
Maximizing offsite construction for this project was a key goal to ensure rapid and affordable on-site completion. The 4 story building, type VA construction over a mat slab, will be supported by a geopier system. The installation of Geopier elements reduces the potential for liquefaction by providing a stiff, non-liquefiable inclusion in the liquefiable soils and by densifying the matrix soils between the piers. Developers say that Casa Paloma is Orange County's first affordable and supportive housing project using modular wood construction could be a game-changer. Modular wood construction could be the solution, said Milo Peinemann, the CEO of American Family Housing. Unlike traditional stick-built construction, where construction workers build the project with materials from the ground up, modular wood units were constructed off-site inside a factory. Recycled steel shipping containers are also popular building materials, but there are limitations.
Cost Effectiveness
Modular wood construction could be the solution to building safer affordable housing units faster, said Milo Peinemann, the CEO of American Family Housing. Usually, it could take several years to have a stick-built construction project built. The modular wood units are fully customizable, come with all the bells and whistles, and it saves anywhere from 30%- 50% of the time, said Keith Labus, a principal at KTGY. Peinemann, whose company-built Potter's Lane, a community made from repurposed shipping containers for military veterans, added that modular wood construction is easier to transport than recycled shipping containers. Volumetric modular wood construction allows developers to control costs and get affordable housing units to the market faster. The modular wood units were produced by Nashua Builders and transported from their factory in Idaho. The factory approach further offsets the prevailing wage premiums.
See More Awards of Distinction Winners