Camille Creek Community School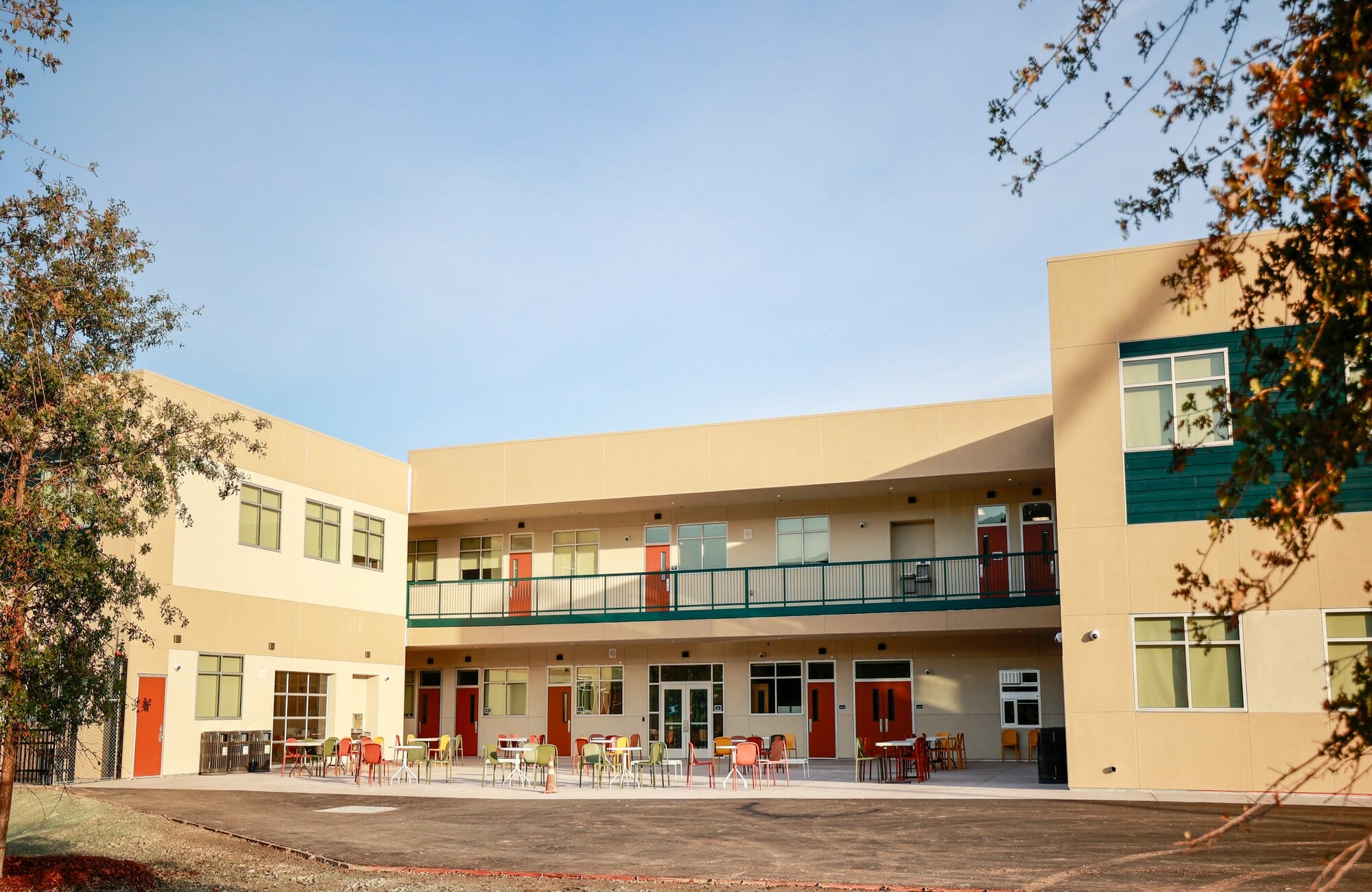 Main Category: Modular Building Design
Company: Silver Creek Industries
Location: Napa, CA
Building Use: High School
Gross Size of Project: 26691 Square Feet
Days to complete: 304
Award Criteria
Architectural Excellence
The project consists of a two-story structure which houses a special purpose high school campus. The project features 6 flexible classrooms, 2 standard classrooms, a commercial kitchen, 11 counseling offices, administrative space, 2 conference rooms student and staff restroom facilities, and support spaces. The building exterior utilizes a mixture of stucco, fiber cement panels and lap siding. Accent colors are used throughout the project to create a vibrant and welcoming exterior. The building shape and exterior balcony create a large patio for outdoor dining and education space. Parapets of various heights are used for visual interest while screening the roof top mechanical equipment.
Technical Innovation & Sustainability
To meet the project requirements in the most cost-effective manner a project specific module design was utilized. The 12'x40' modules are 13'-6" tall to accommodate 9'-6" ceilings while concealing all utility systems. A lightweight concrete floor system was poured in the factory for all modules. All classrooms, and most occupied spaces, feature large windows to provide natural daylighting. High efficiency LED lights with occupancy sensing controls and automatic daylighting controls were used in all classrooms. Manual dimming controls were provided for all classroom lighting to allow the teachers to adjust the light levels for specific learning exercises. Manual dimming controls were also provided for administrative spaces to allow the occupant to tailor the lighting levels to meet their needs. Wall assemblies separate classrooms and adjacent spaces were designed to provide acoustic separation for sound mitigation. Low-VOC materials were used to provide an excellent learning space.
Cost Effectiveness
The project owner recognized early in their planning process that modular construction was the most cost-effective construction method for the construction of their classroom buildings. By utilizing off-site construction methods, they were also able to realize significant schedule advantages as compared to traditional construction. During the design process the interior spaces were carefully planned to maximize the work that could be performed in the factory. The restroom facilities were designed and located to be fully contained within a module to allow those spaces to be completed in the factory. Mechanical system routing and chases were design to maximize ductwork installation in the factory. A modular elevator tower was utilized to reduce the system cost and allow for earlier occupancy.
See More Awards of Distinction Winners