Bon Secours St. Francis Health Systems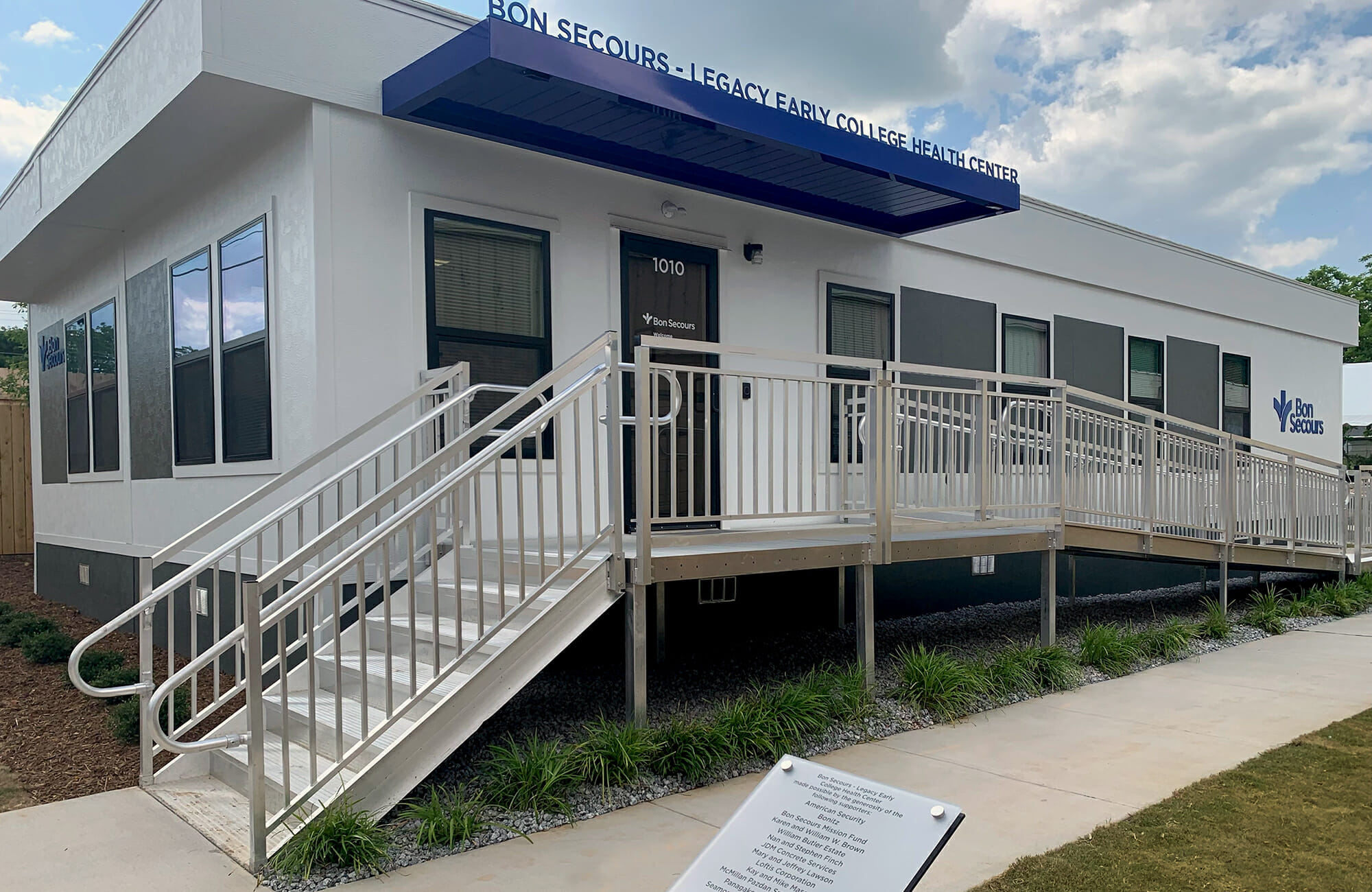 Main Category: Modular Building Design
Company: Modular Genius, Inc.
Affiliate: Titan Modular Systems, Inc.
Location: Greensboro, NC
Building Use: Healthcare Clinic
Gross Size of Project: 1568 Square Feet
Days to complete: 101
Award Criteria
Architectural Excellence
The healthcare partnership between Bon Secours St Francis Health Systems and Legacy Early College in Greensboro, SC needed a primary care facility. The facility was need for students, their families, and teachers during and after school. While long-term plans may be in the works for a permanent facility, the temporary need was immediate. To provide this clinic, it was proposed to use a 1,568 gross square foot freestanding modular building for speed to occupancy. The facility would be located on a parcel of land in the community with visitor parking and ideal foot traffic from the community by sidewalk. The shape of the modular building is square to fit symmetrically on the property and was painted a white and blue to match similar visual aesthetics of the surrounding campus. Landscaping of indigenous plans was desired to ensure the project looked presentable and planned.
Technical Innovation & Sustainability
Site utilities and foundations were constructed while the building was manufactured in an off-site facility. The foundation was constructed with concrete footers and piers. The manufacturer-built features inside the modular building such as laminate counter tops, exam room sinks, counters, cabinets, acoustical ceiling, plumbing and electric for equipment. The interior finishes such as floor covering, and final painting was completed on site as that was decided during production. The fabric canopy and ADA ramp and steps were provided and tied into concrete sidewalks attached to parking lot.
Cost Effectiveness
Relocatable Modular Buildings was an ideal solution due to funding raised by the St. Francis Foundation requiring the structure to be operational within the year that funding was approved. Modular Genius utilized readily available materials sourced close to the off-site facility of the modular building. The layout of the site was completed in a manner that the utility connections would have the shortest runs. Other MBI member team partner Upside Innovations, provided the prefabricated aluminum entrances to stay within the Foundation's budget. The manufacturer Titan Modular Systems constructed a durable building with energy and sustainable products which was a factor that yielded cost effectiveness to the project.
See More Awards of Distinction Winners