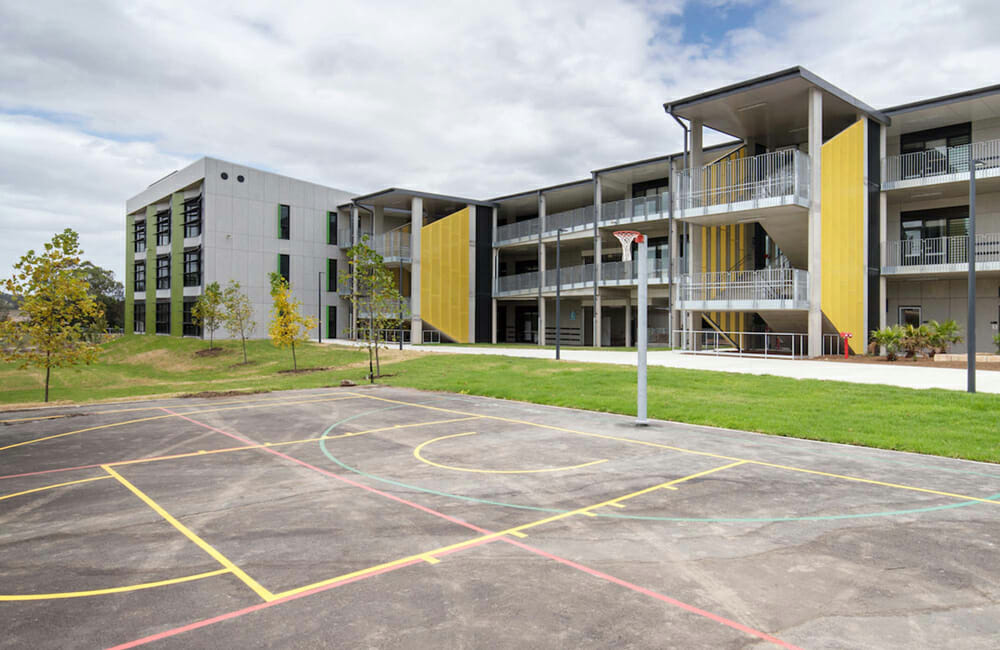 Company: Fleetwood Australia
Location: Catherine Field, New South Wales
Building Use: Education
Gross Size of Project: 52410 Square Feet
Days to Complete: 504
Award Criteria
Architectural Excellence
Fleetwood partnered with Hansen Yuncken to design and construct Barramurra (Catherine Field) Public School, a triple-story permanent modular facility spanning 4,869m2 in the new suburb of southwestern Sydney, Barramurra, and address the spike in school enrolments. The solution consisted of a rapid delivery of 96 modules to create 44 new flexible learning spaces over three storys. The new facility minimizes local overcrowding in regional classrooms, providing learning spaces for 1,000 students from Kindergarten to Year 6. Barramurra Public School was built on a flat greenfield site with the new modular design perfectly integrating indoor and outdoor learning spaces whilst designing the modules to ensure the school grounds hosted ample breakout grass and play areas. The project was fully compliant with EFSG standards and the use of Volumetric DfMA permanent modular offsite construction achieved NSW Government Design Excellence Standards.
Technical Innovation & Sustainability
The school was one of the first in NSW to be built using the Schools Infrastructure NSW Design for Manufacture and Assembly (DfMA) building method. This innovative design method requires an intimate understanding of the end product and was built to the highest green energy standards. Not only are the design and interiors architecturally and visually striking, it is also optimized for ease of both manufacture of parts and assembly of product within controlled factory conditions ensuring minimal on-site waste, environmental impacts and reduced whole of life cycle costs. This method increases efficiency and reduces cost, time, waste & labor in the short and long term. The building also features a Building Management System (BMS) providing off site control of all Heating, ventilation and air conditioning including: indoor temperature and humidity monitoring; CO2 monitoring; outdoor temp & humidity; AC push buttons enable status blue light; and dedicated fire and smoke shutdown terminals.
Cost Effectiveness
A DfMA approach was taken to increase the speed of design, construction and procurement, by reducing errors and standardizing modules & classrooms for rapid production at scale. This resulted in numerous cost savings, optimizing the manufacturing process and reducing time & labor costs. Fleetwood's manufacturing team utilized BIM 360 to support informed decision making throughout the project. Trade requirements were modelled pre-construction in 3D spaces to optimize resource mobilization. Construction of the modules was undertaken nearby, with concurrent site preparation further streamlining the process; requiring less trades on site and enabling the school to occupy the building prior to commencement of the new school year. Fleetwood also engaged a fire engineer to lend expert advice and overcome unique obstacles with fire rating of the permanent modular building. Durable finishes and fixtures were used throughout to reduce cleaning & maintenance costs and reduce whole of life costs
See More Awards of Distinction Winners