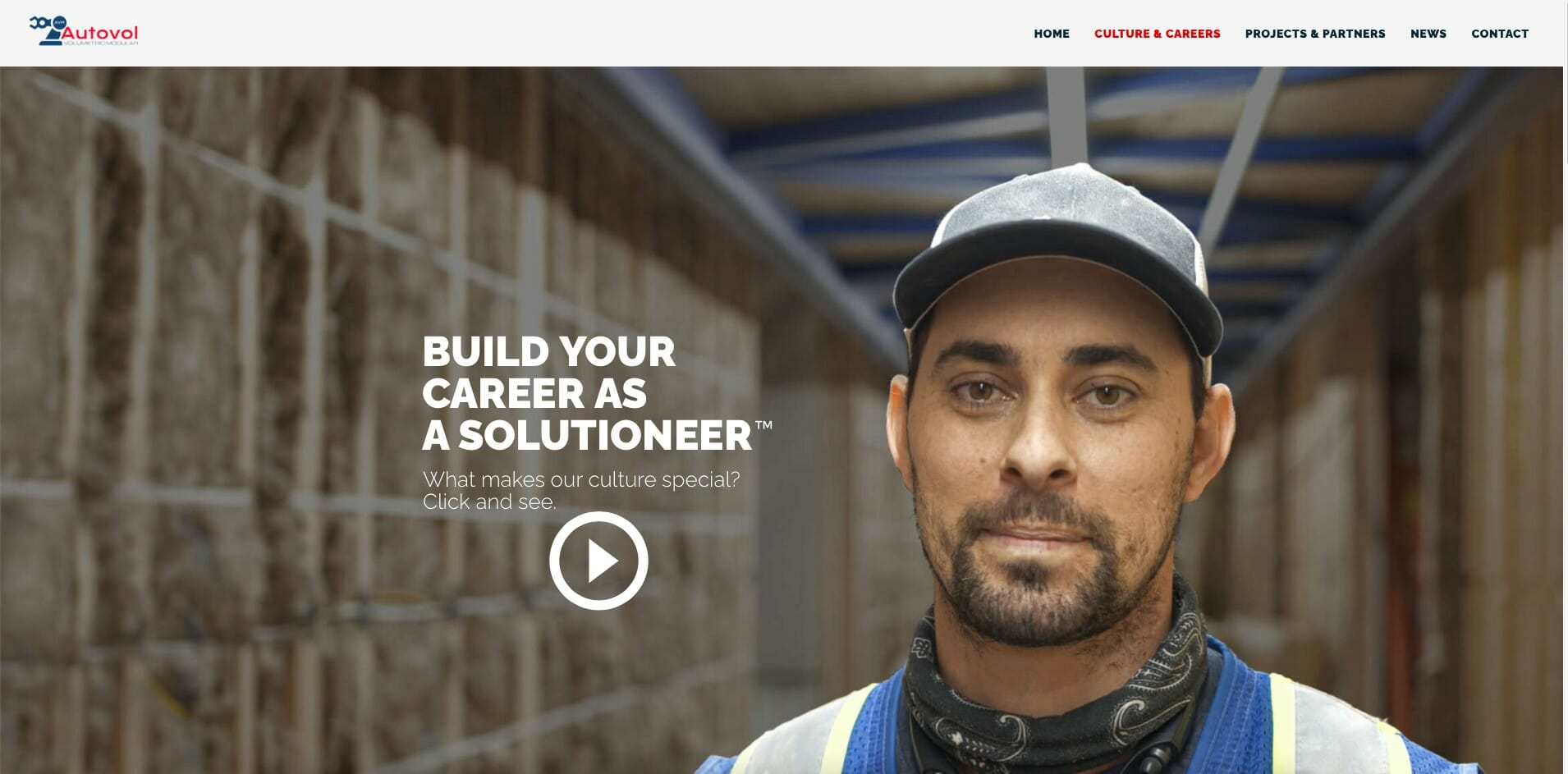 Main Category: Marketing Piece Entry
Entrant: Autovol
Award Criteria
Specific Medium Used
Internet, Website
Target Audience
Industry, general, community, recruiting, media
Methodology
Telling the story of a new modular company and factory, up close and personal, words, pics, video
Message to be Communicated
A new kind of construction company and a new kind of modular factory—a game-changing leader
Distribution
World Wide Web. Press release announcing the company was up and running
Entry Objective
To show more than tell that a vision from Fall 2018 had become a reality in early 2021. To demonstrate that automation could be part of a successful modular operation, and increase its potential for success. To show the people, the machines, and the relationship between them. To showcase projects. To show the onsite part of modular. To establish a news outlet. To facilitate inquiries. To establish a recruiting and job application process within the context of a demonstration of culture and why Autovol has a compelling one. To let the people of Autovol tell its story.
Effect on Sales, Visits, or Inquiries
No baseline data was being collected for the initial website before 2021. Current site visits are over 3,000. Our site is our primary recruiting tool and since it launched our Solutioneer staff has grown by about 50%. We had three projects at time of launch and now we are in talks of at least twice that many additional. We had no brand or recognition and we are now a top search result in our region for modular construction companies. Developers approach us on a weekly basis, and when asked how they heard of us...the answer is overwhelmingly, "we saw your videos on your website." We have been featured in an international robotics panel, all major regional news outlets, and Viewpoint with Dennis Quaid. We prioritize focus on organic relationship over data, so we haven't done extensive site analytics. But the anecdotal and interview-based data indicates our website is setting the stage very well for brand awareness, developer inquiries, Solutioneer morale, and news story generation.
See More Awards of Distinction Winners