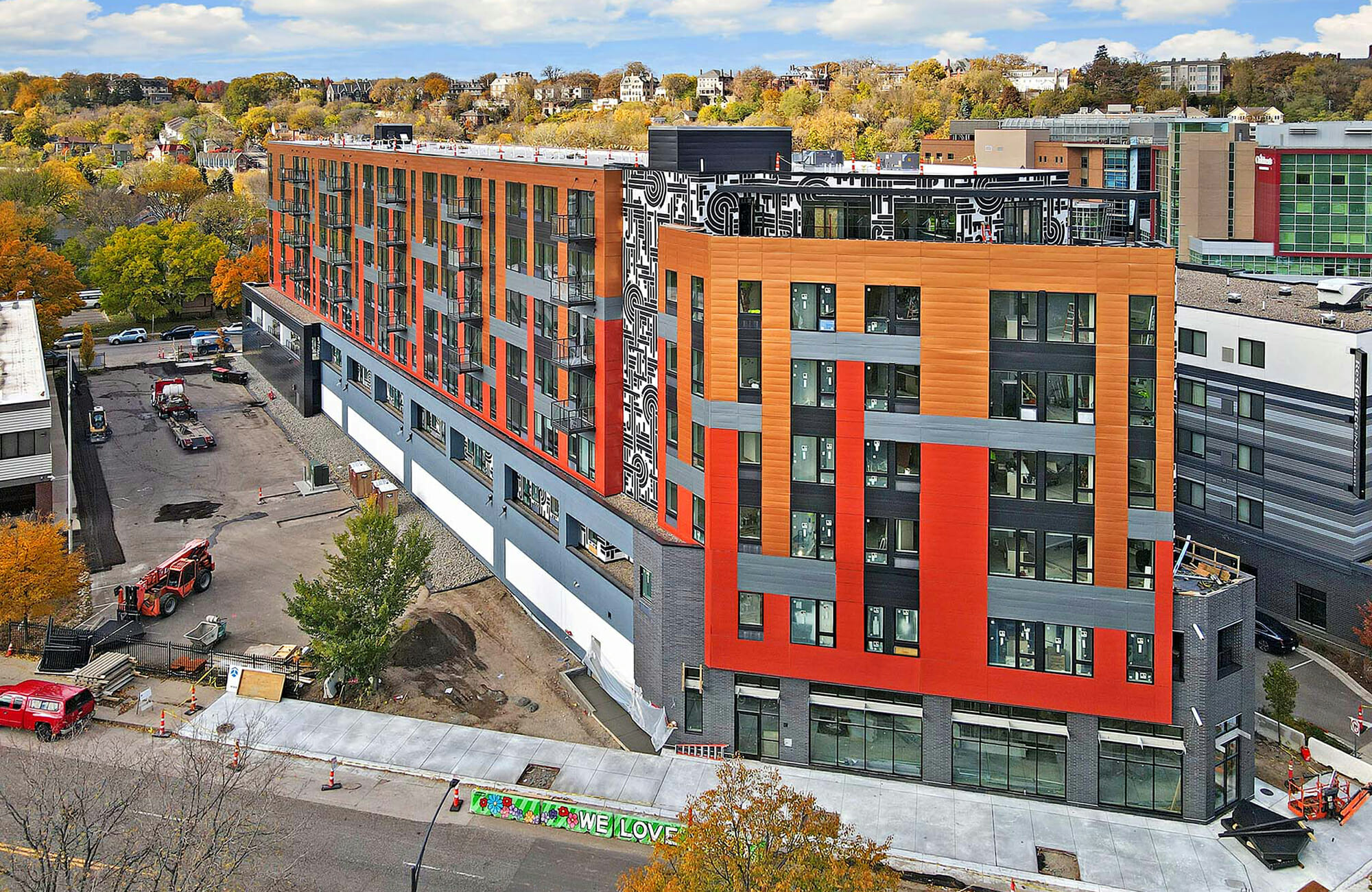 Company: RISE Modular, DJR Architecture, Inc. & ProSet, Inc.
Location: St. Paul, MN
Gross Size of Project: 108539 Square Feet
Days to Complete: 592
Award Criteria
Architectural Excellence
Alvera Apartments is one of the country's most complex wood-frame modular projects and the first Type 3A modular building in MN. Located near downtown St. Paul, Alvera is a mixed-use, 7-story building — 5 floors of 154 modules on a 2-story concrete podium — with 193 rental units on a 0.61-acre site. This impressive 360' structure fully uses its tight urban site with nano studios, 1- and 2-bedroom units, an upper-level clubroom, rooftop deck, fitness center and more. The modules on the building's east side were reoriented, angled, and stepped to accommodate the unique angle of the streetscape, providing architectural character. A dramatic, hand-painted five-story mural wraps the façade with the upper floors patterned in an array of lively colors. Situated at a key intersection, this expressive property displays a sense of arrival and identity for the Capitol. With unique modulation, massing and artist collaboration, the Alvera team proves modular can achieve the highest design.
Technical Innovation & Sustainability
Alvera Apartments features the most extensive semi-automated parking system in the Midwest, with more than 100 stalls. The site contains shallow bedrock, which prevented underground parking. A semi-automated parking system allowed the required parking to be dedicated to one floor, which freed up more floors for housing. The result was 30 additional units which increased the project density at a strategic point to introduce modular construction. The project was started during the pandemic, and several opportunities arose to utilize vacant parking lots for staging and additional assembly. Many dense urban sites can be challenging to provide the necessary laydown and staging areas for modular construction. By utilizing this extra space, the 74 bolt-on balconies were attached onsite and hoisted up with the modules, which is very unconventional. Inspections took place on the ground before the modules were set in place, saving inspection time and reducing travel to and from the factory.
Cost Effectiveness
The major issue with Alvera was making the proforma work. The site was tight, oddly shaped and located in one of the most heavily trafficked corridors in the state. RISE and DJR collaborated to design custom-shaped modules that pushed the building to the property line and, with the parking system, achieved the units needed for financial viability. With modules built offsite concurrently with the 2-story concrete podium, the building was ready for occupancy in just 13 months — a 30%-time-savings versus traditional construction. The tightness of the site also meant that if traditionally constructed, the storage, staging and mobilizing of materials would have to be done elsewhere, leading to significant complication and expense. RISE and ProSet developed a logistics plan that staged a minimal number of mods in a nearby vacant lot before setting, and the materials needed for project completion were stored onsite. The expense, time, disruption from staging to the site were eliminated.
See More Awards of Distinction Winners