Allegiant Stadium - Home of the Raiders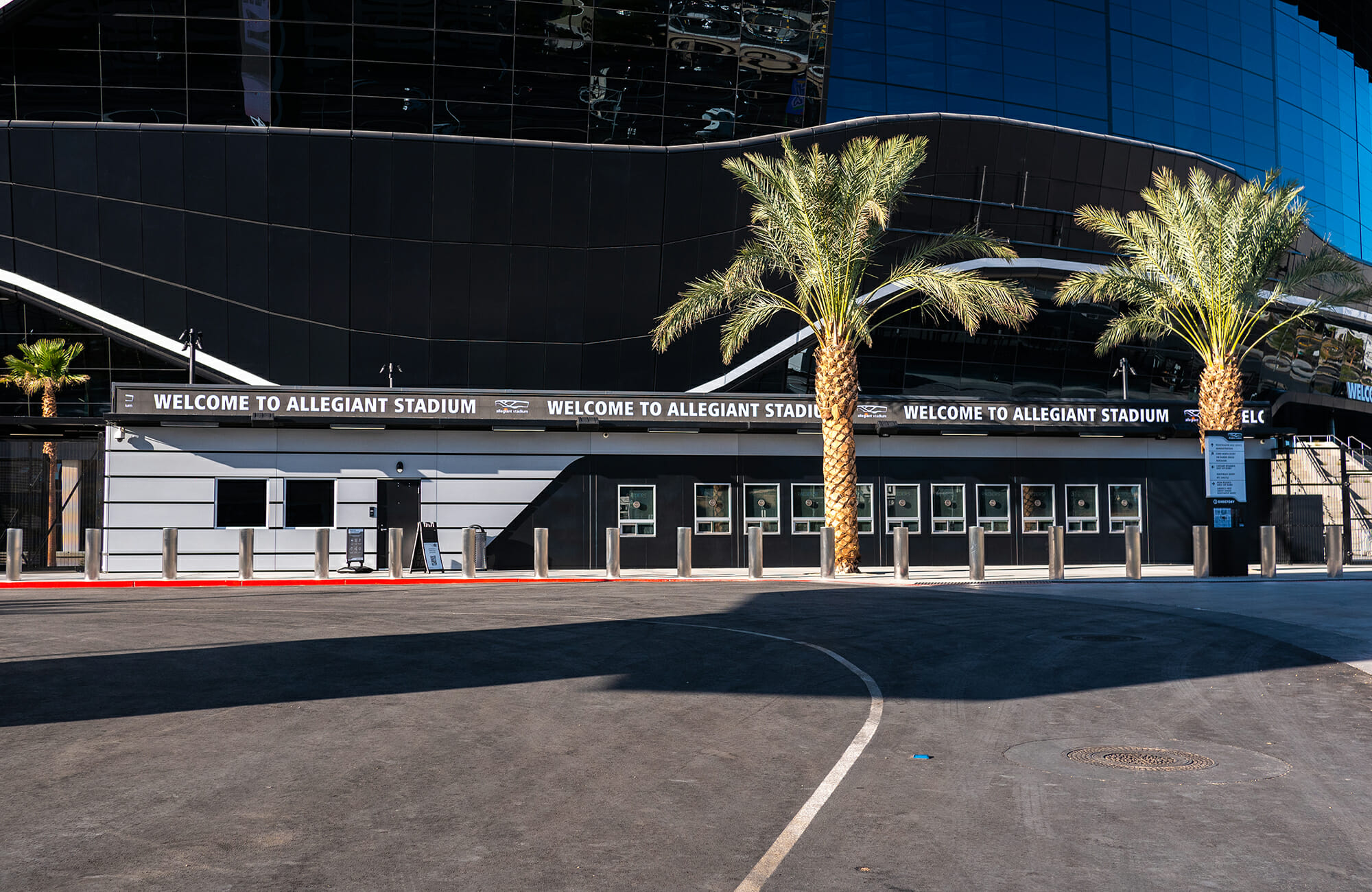 Main Category: Modular Building Design
Company: Xtreme Cubes Corporation
Affiliate: Mortenson / McCarthy
Location: Las Vegas, Nevada
Building Use: Main Ticket for Allegiant Stadium
Gross Size of Project: 2496 Square Feet
Days to Complete: 180
Award Criteria
Architectural Excellence
The ticket office built by Xtreme Cubes is strategically placed at the entrance to the Allegiant Stadium in Las Vegas Nevada, which is the home of the Las Vegas Raiders of the NFL. As the gateway to the $1.8 billion stadium project, the Xtreme Cube ticket office needed to conform and complement the majestic, sleek and modern dark glass design of the massive stadium that serves as the backdrop. Xtreme Cubes had to address two distinct interior goals in the design of the ticket office. First, to provide a high-end, luxurious experience for the client-facing portion of the lobby by using high quality, high-end materials and finishes. The second goal was to provide an efficient and fluid back of the house experience for the ticketing staff.
Technical Innovation & Sustainability
During construction of the Allegiant Stadium, one of the main cranes being on the project was located on the same pad where the ticket office would eventually be placed. To meet its turnover deadline, the Mortenson | McCarthy Join Venture team required an alternative to a stick build ticket office. This unique situation necessitated a modular solution for the ticket office that could be constructed offsite and simultaneous to the stadium build. The general contractor chose to incorporate modular prefab factory construction, and Xtreme Cubes was their choice. The interior improvements were very complex for typical modular construction. In addition to the high-end finishes and materials that needed to be installed in the factory, the lobby of the ticket office had a 30 foot long by 12 foot tall vertical wall that had a distinct arc that ran across modules (mate-lines) with a Level 4 drywall finish.
Cost Effectiveness
The Allegiant Stadium in Las Vegas Nevada, which is the home of the Las Vegas Raiders of the NFL, was a union jobsite. By choosing Xtreme Cubes modular solution for the ticket office, the developer did not have to pay union wage for the offsite portion of the ticket office construction, resulting in significant savings for this piece of the project. Xtreme Cubes engineered its robust steel moment frame cubes for this project. This allowed all the cubes to be moved directly from the delivery trucks and set on the foundation using only a telehandler. This provided additional savings to the developer by avoiding the cost and time of a crane set and the related rigging equipment.
See More Awards of Distinction Winners