Adquisición de Centros Modulares de Salud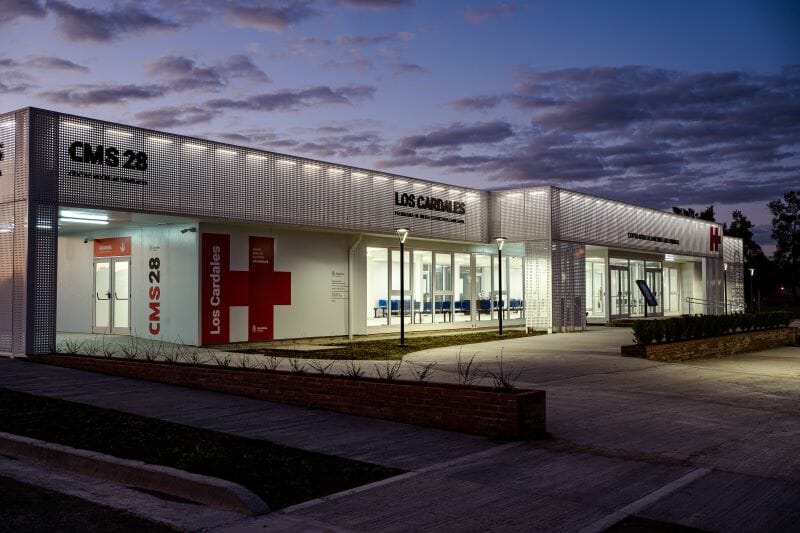 Company: ECOSAN S.A.
Location: Cardales, Partido de Exaltacion de la Cruz, Buenos Aires
Gross Size of Project: 10980 Square Feet
Days to Complete: 53
Award Criteria
Architectural Excellence
The building consists of a Public Area made up of: waiting room, admission offices, clinics, vaccination, infirmary, and a Restricted Access Area: monitoring room, shock-room, x-ray room, pharmacy, laboratory, public toilets , bedrooms and changing rooms for health personnel, warehouses and machine room. The building is resolved on a single floor of 10,980 ft2, made up of 66 prefabricated modules of 19'10 1/2" x 8' assembled together on site. The modules are made with a galvanized metal structure, and internal enclosures of pre-painted galvanized sheet metal thermopanels, a double phenolic plate floor and a high-traffic vinyl flooring finish specific for hospital use. The roof that covers the entire complex is executed with a structure of modular prefabricated ribs and galvanized profile belts and a highly insulated prepainted galvanized sheet metal thermopanel roof.
Technical Innovation & Sustainability
The mixed use of highly insulated thermopanels on the walls and ceiling and a ventilated façade system made with microperforated panels allowed for excellent thermal insulation for both summer and winter. In order to achieve a long useful life of the work, ECOSAN S.A chose materials, equipment and devices of high durability and quality, understanding that the durability of a work is directly related to its sustainable characteristics. All the premises have enough natural lighting to achieve the optimal levels required for the development of the different activities. Artificial lighting was resolved with high performance led lighting fixtures in order to minimize electrical consumption. Very low consumption air conditioning equipment was installed. All constructive resolutions were designed and executed in such a way as to ensure a long useful life and minimal maintenance. All the construction processes of the modules are traced and certified under ISO 14001 Enviro.
Cost Effectiveness
The closing system of the modules, consisting of thermopanels, lower and upper fixing angles, significantly reduces assembly time in the factory, compared to mixed systems such as steel-frame or balloon frame. It should be noted that the modular system designed by ECOSAN S.A and the Logistics Planning of the Company was essential to achieve the objective of building 11 hospitals of more than 10,000 ft2 each, simultaneously, during the first months of the COVID-19 Pandemic. under the modality of "turnkey" / turnkey contract, in different provinces of Argentina. From 2020 to date ECOSAN S.A has built more than 55 hospitals throughout the country.
See More Awards of Distinction Winners