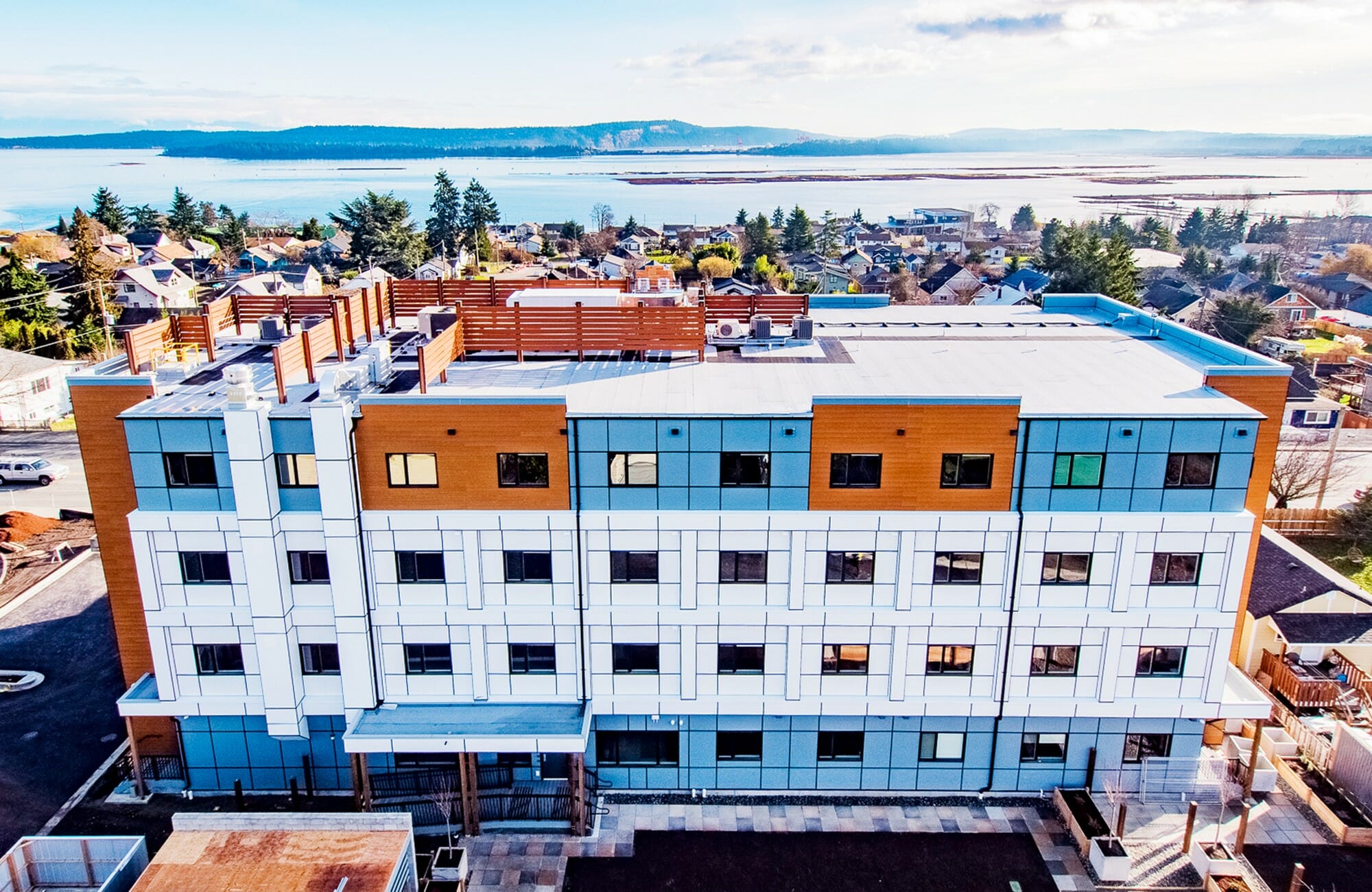 Main Category: Modular Building Design
Company: NRB Modular Solutions
Location: Nanaimo, BC
Building Use: Mult-family
Gross Size of Project: 33500 Square Feet
Days to complete: 184
Award Criteria
Architectural Excellence
Nicol St. is a 4-storey modular, multi-family housing project at 702 Nicol Street in Nanaimo on Vancouver Island, British Columbia. The neighbourhood is a busy urban setting with a mix of buildings. The project consists of 59 units with a mix of family units, apartment-style suites, bridge-to-housing suites and 3 accessible suites. High-quality interiors included functional and durable finishes providing fresh, modern living spaces. Common areas include a first and second floor lounge, dining area and outdoor amenity space. The 48 modules for the project were fabricated at our Kamloops facility and transported to site by road and barge to the Island for craning and final installation. The exterior design, completed in the factory, included architectural build-outs. Final work included textured Hardie siding with natural tones for a modern exterior that blends seamlessly into the vibrant community setting. Other exterior features included wood entryway, front porch, and entry canopies.
Technical Innovation & Sustainability
To meet the communities need, we brought the expertise across the affordable housing continuum to this project. The design was carefully considered for efficient modular constructability and factory completion, allowing most units to be delivered with a high level of completion, minimizing on site work. By maximizing the efficiency of the design, the project was able to be completed in 6 months, over 50% faster than a site build. The project features 4 stories of modular wood construction over a concrete site completed foundation. This beautifully designed, permanent modular project exceeded the stringent criteria of the BC Energy Step Code 4 and included energy efficient and environmentally conscious aspects in the design to reduce day-to-day operating expenses and long-term environmental considerations. Other energy efficient and sustainable design elements were incorporated, which included energy efficient mechanical systems and waste management tracking throughout construction.
Cost Effectiveness
Modular construction provided the most cost-effective build solution in Vancouver Island's expensive labor and construction market. The Client was able to take advantage of the fixed price, design-build modular contract and the high quality provided from an efficient modular factory-built project. The efficient modular design minimized the amount of site construction, which offered efficiencies for the project and a dramatically reduced schedule, with all 48 of the modules being craned in only 15 days. NRB's kit-of-parts and repeatable standardized unit plans provided economies of scale and efficient fast-track production at the plant. The reduced schedule also greatly reduced disruptions in the busy urban neighborhood setting and ensured high-safety standards and quality control.
See More Awards of Distinction Winners