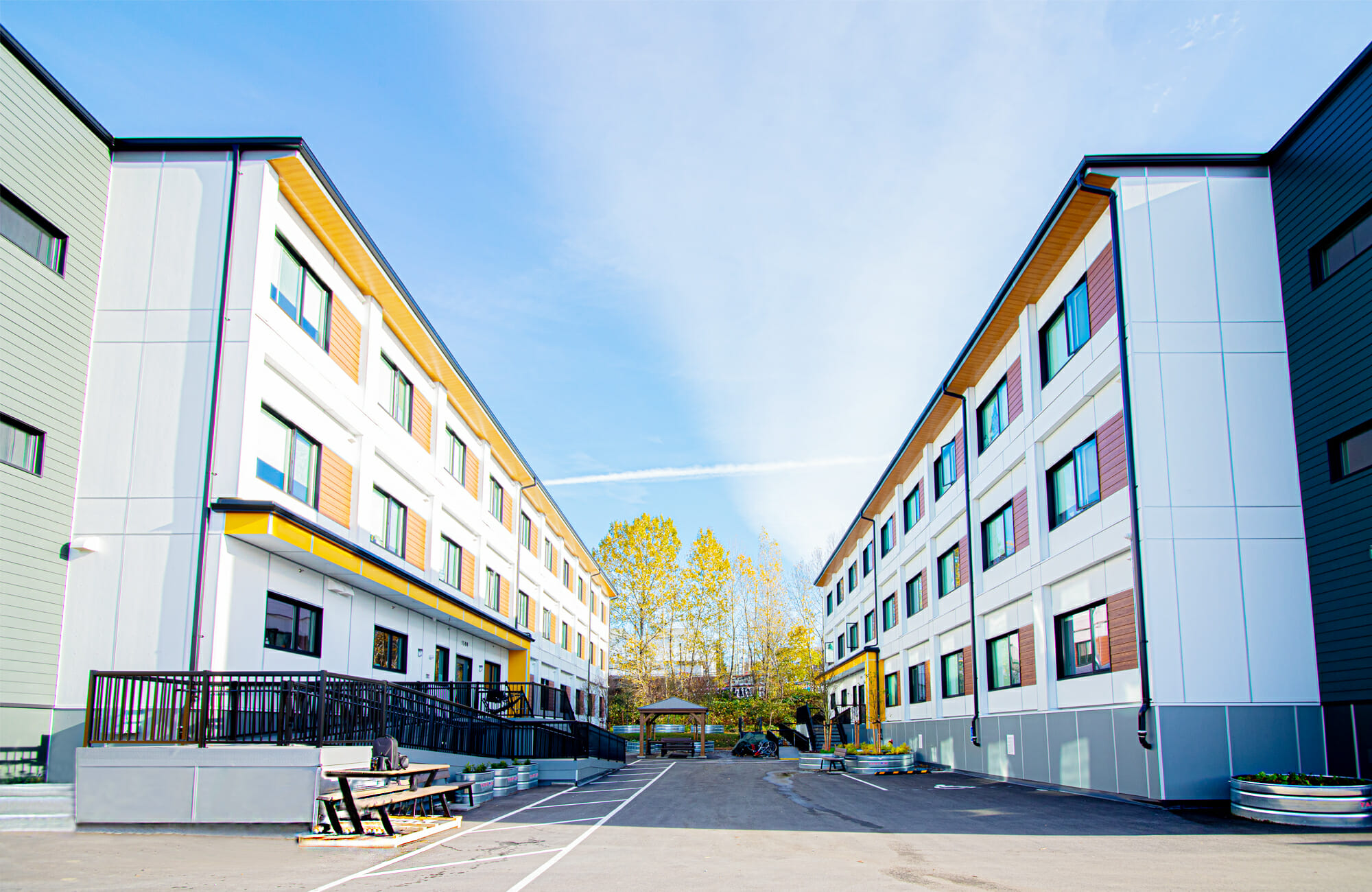 Main Category: Modular Building Design
Company: NRB Modular Solutions
Location: Vancouver, BC
Building Use: Supportive Housing
Gross Size of Project: 51479 Square Feet
Days to complete: 227
Award Criteria
Architectural Excellence
The two 3-storey relocatable supportive-housing buildings provide a total 50,000+sq ft and feature 98 total single occupancy suites. Each 353 sq ft suite contains a bathroom, kitchenette, and private living space, with 12 accessible units. Each building's interior design features a central amenity space with a commercial kitchen and common laundry and lounge facilities to encourage resident interaction. A modern Hardie plank and panel exterior design was chosen so that the building could be part of any community when the temporary units are eventually relocated. A flexible module arrangement allows for the addition or removal of units to fit sites of different sizes. The exterior façade emphasizes the building's modern character with a unique large overhang roof gives shape and interest, and the other architectural features include large windows, faux wood siding and eye catching colors. The building blends seamlessly into the urban, low-density location.
Technical Innovation & Sustainability
Due to its temporary nature, the choice was made to set the building on an innovative, reusable, entirely above grade multi-point foundation system, which will allow the modules to be relocated and reconfigured on different sites in the future. The foundation system also contributes to the building's smaller construction footprint by requiring less site preparation, minimizing ground disturbance and setting the stage for a quick building demobilization and re-assembly. The building is designed in accordance with client requirements for meeting the province's Energy Step Code, achieving specific energy targets set by the City of Vancouver and BC Housing. Efficient lighting, plumbing and mechanical features were incorporated that exceed typical building code, with consideration for Step Code 4, BC Housing Design Guidelines and City of Vancouver requirements.
Cost Effectiveness
Modular construction offers a way to quickly increase the supply of affordable housing, with no significant impact on cost when compared to site-built construction. The reusable, reconfigurable design and multi-point foundation system allows for the entire building – from ramps to landscaping – to be demobilized and reassembled at another site in the future at a fraction of the time and cost of constructing a new building. Several other energy efficient and environmentally conscious aspects were incorporated into the building's design to reduce long term environmental impact and day-to-day operating expenses, including LED light fixtures, high efficiency plumbing fixtures, energy efficient mechanical equipment, energy efficient appliances, and abuse resistant drywall.
See More Awards of Distinction Winners