Mont Cascades Project Profile
Entry # 369972

Category: Marketing Piece Multimedia
Company: Black Diamond Group
Medium: Video
Website (if applicable): https://www.youtube.com/watch?v=LEQ6I4wh3DQ
Target_Audience
Project and construction site managers, procurement, general managers, superintendents.
Creative Process
Professional videographer captured timelapse and drone footage, conducted interviews & took photos.
Message to be Communicated
Get from quote to building quickly with BOXX; excellent quality, affordable buildings, high customer satisfaction.
Distribution
Uploaded to YouTube for distribution across many platforms, including social media, email, and our website.
Entry Objective
This project is a great example of an out-of-the-box usage occasion for our modular buildings, and how quickly the buildings can be set up. We wanted the video to feature multiple perspectives, including the General Manager and Rental Shop Manager, a longtime patron and BOXX Modular's Ottawa Branch Manager. This video was developed as a case study for promotion across Canada, as well as content to leverage for our Quebec expansion, and therefore we chose to film both an English and French version. We wanted to highlight the unique emotional component of the project – Mont Cascades' original lodge burned down in a fire and without a temporary solution, they would not have been able to open for this ski season, leaving many people unemployed and a community without its main attraction. This presented a great opportunity for a narrative-style video that highlighted BOXX Modular's products and benefits like excellent customer service, creative solutions and high-quality products.
Effect on Awareness, Sales, or Inquiries
This video has been useful as a marketing tool in many different capacities. For example, it was used by a BOXX sales team in Alberta to pitch another ski lodge project. The French version of the video has also been leveraged in business development efforts as we expand into Quebec, to demonstrate that we can serve the French-Canadian population. The video and case study have also been promoted on social media, primarily LinkedIn. Multiple LinkedIn posts promoting the video and accompanying case study have garnered a substantial amount of attention through impressions and engagements including clicks, reposts, and reactions. The video is also featured prominently on the BOXX Canada homepage, as well as in the project case study. Both pages have had an increasing number of visitors since the BOXX Canada site was launched in July 2022. We will continue to use and promote this video and case study the future in our advertising and sales efforts as an excellent example of our projects.
---
Plumbing Subtrade Overview
Entry # 380834

Category: Marketing Piece Multimedia
Company: Guerdon, LLC
Medium: Video
Website (if applicable): https://www.guerdonmodularbuildings.com/plumbing-subtrade-overview/
Target_Audience
General Contractors and Subtrades
Creative Process
We needed a simple, visual way to help potential on-site subcontractors delineate how much scope is completed in the factory vs what needs completed on-site. If a subcontractor underestimates the work completed in the factory, the end client ends up getting charged double for major portions of the project. Having the subcontractor walk through the factory before they make their bid is always an eye opener, but not always possible, so we came up with this video to start the conversation.
Message to be Communicated
The on-site plumber has a far less work to do on a modular project than a traditional build. Their limited scope of work on a modular project is centered on installing pipe and making connections within the corridor, not installing finishes within the living units.
Distribution
While this resource will be available online and through our social media channels, the main impact and distribution will be directly to General Contractors and subcontractors. It is something we will share with anyone looking to bid on one of our projects.
Entry Objective
Marketing is more than just generating leads; it is about communication. This piece will communicate to everyone at the table the general extent of a plumbing scope and build understanding for first time modular contractors so that they are more confident in bidding a job at a more accurate price.
Effect on Awareness, Sales, or Inquiries
This is a new launch, but we are already receiving positive feedback. Clarifying he scope not only brings more accuracy in quoting modular projects, but also opens the door for more contractors to break into modular, realizing that it is simpler and less intimidating that they had originally perceived.
---
Virtual Affordable Housing Tour
Entry # 382141

Category: Marketing Piece Multimedia
Company: GIANT CONTAINERS INC.
Medium: Website and VR Goggles
Website (if applicable): https://kuula.co/post/79L2y/collection/7l9S6
Target_Audience
Affordable and Supportive Housing
Creative Process
Animation and Virtual Software
Message to be Communicated
Ability to walk through a large scale affordable housing development including the interior of a 360 square foot unit.
Distribution
Online, Trade shows, Client Meetings.
Entry Objective
Trauma Informed Design. Large scale housing developments can be designed well and have a direct impact on behaviour.
Effect on Awareness, Sales, or Inquiries
Several inquires, currently quoting 3 sites with hopes of going into development mid 2023.
---
Modular vs. Stick Built & A Case for the Future of Construction
Entry # 382516

Category: Marketing Piece Multimedia
Company: Pacific Mobile Structures, Inc.
Medium: eBook & Blog Article
Website (if applicable): https://assets.adobe.com/public/75900d8d-23fd-41a9-74ba-6bd8fbf8cc13
Target_Audience
The target audience for this piece is members of the construction industry and the general public.
Creative Process
Researching the history of construction and talking with industry experts to capture their thoughts.
Message to be Communicated
Modular construction continues to be the future of construction as a better way to build.
Distribution
Distributed on website, social channels, and submitted to architectural publications for publishing.
Entry Objective
The objective of this piece is to create a resource for the modular construction industry that acts as a perspective-shifting thought-piece challenging the status quo and stigmas around modular construction. By illuminating the history of modular construction and pointing back to its practice in Ancient Rome, we can immediately smash the perception that modular construction is a newer, less practiced way of building. Modular construction evolved from stick-built construction to meet a historical need for construction to be faster, more efficient, predictable, and shielded from external elements and harsh weather. This piece is written with a call to action for the modular construction industry to finally step out of the shadows of stick-built construction and to change the minds and perceptions of the end user to propel the industry forward to capture a larger share of the construction market.
Effect on Awareness, Sales, or Inquiries
In the process of putting this piece together alone, members of the modular construction industry are excited about being able to use this piece as a resource to share with their communities and potential customers. It's already brought the modular construction industry together in way that empowers it to capture a larger share of the market with an alternative perspective. Internally at Pacific Mobile Structures, C-Suite executives have read it repeatedly noting that they learned something new about modular construction after being in the industry for years. The fact that modular construction practices were utilized in Ancient Rome is one of the most notable points of the piece that's left an imprint on the minds of industry mavens. The thought alone that modular construction has continuously touted its ability to hide in the shadows of stick-built construction, when it's always been the future of construction has offered a fresh perspective and approach to the future of constructio
---
The Full Monty: All the Cherokee Lane School Videos
Entry # 382526

Category: Marketing Piece Multimedia
Company: MODLOGIQ
Medium: Video, LinkedIn, Blog, Email, Website Landing Pages
Website (if applicable): https://www.modlogiq.com/post/the-full-monty-all-the-cherokee-lane-school-videos
Target_Audience
School Districts, Governmental Organizations, Owners/Developers, Architects, CM's/GC's
Creative Process
Shot video (documentary-style) during 15-day installation of 175 modules for Cherokee Lane Elementary to create 16 videos showing key attributes of MODLOGIQ's Smart Off-Site Construction
Message to be Communicated
This complex and massive installation project highlights MODLOGIQ's extraordinary capabilities and the numerous advantages of MODLOGIQ's Smart Off-Site Construction
Distribution
LinkedIn, Blog, Email, Landing Pages
Entry Objective
Drive greater appreciation of the virtually limitless potential of off-site modular construction and the immense value it delivers for ALL stakeholders
Effect on Awareness, Sales, or Inquiries
Generated 15,000+ impressions on LinkedIn over 45-day period, 69 blog post/page visits, and 850+ email opens as part of a 7-week email nurture campaign targeting architects and engineering firms
---
VESTA - Design to Completion
Entry # 369945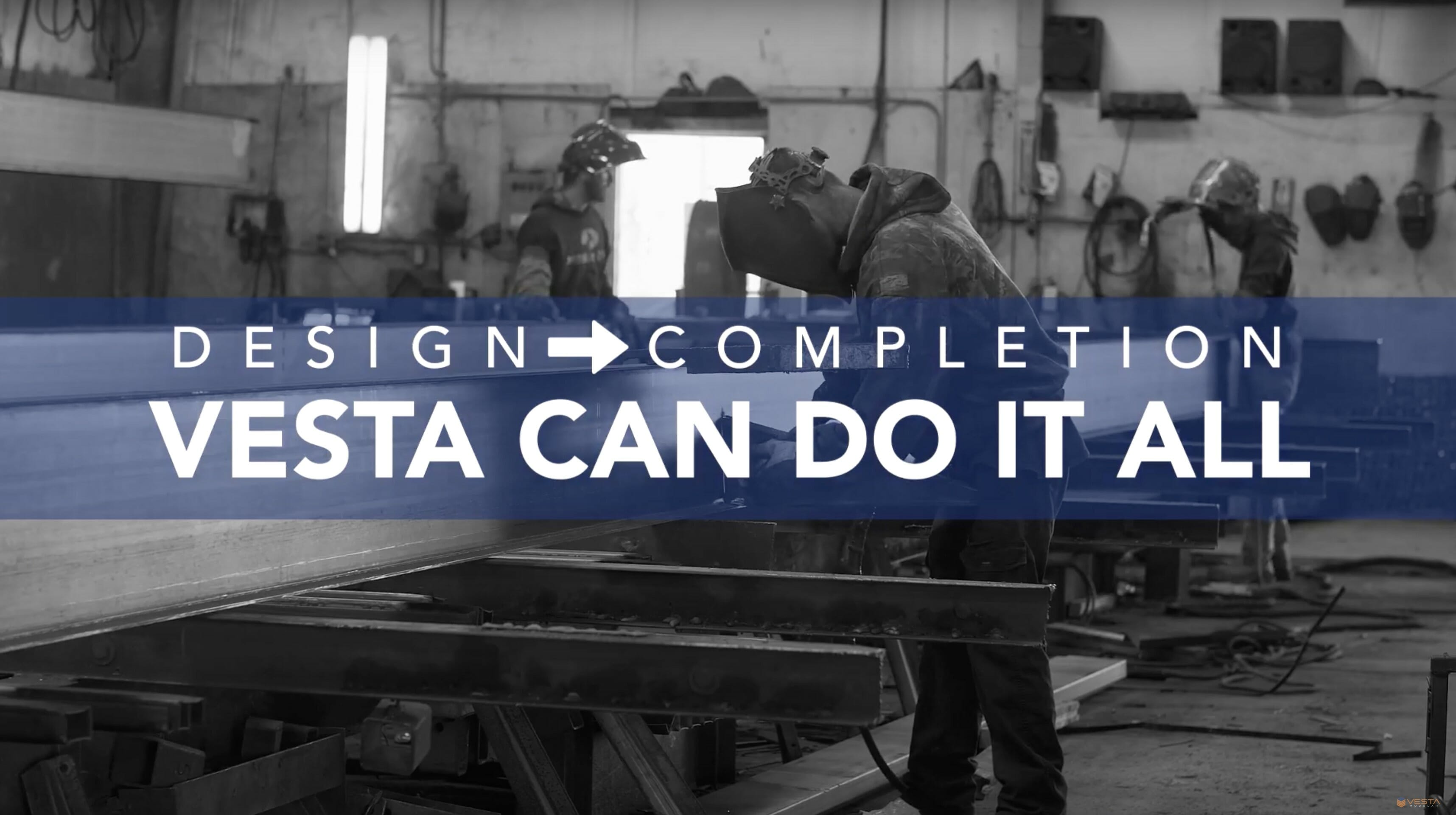 Category: Marketing Piece Multimedia
Company: VESTA Modular
Medium: Youtube Video
Website (if applicable): https://www.youtube.com/watch?v=0J74uvSeHZs
Target_Audience
Potential and Existing Customers
Creative Process
Drone and Video Footage rendered into video
Message to be Communicated
Steps during the Modular Process
Distribution
Sent via email newsletter, social media and through sales team
Entry Objective
Our goal in creating this video was to educate potential customers on the modular construction process and show how VESTA utilizes our expertise on projects of various sizes to ensure ultimate client satisfaction. We receive many inquiries regarding what is involved in the design through completion of a modular building project. Explaining this process through a visual concept has proven to be quite effective in educating those that want to learn more about the industry. This step-by-step video not only summarizes the modular process but presents it using an infographic that is both visually appealing and easy to understand.
Effect on Awareness, Sales, or Inquiries
The video was posted on YouTube and shared through the Vesta social media accounts. The video has almost 200 views and continues to be distributed each month to thousands of subscribers through the Vesta digital monthly newsletter. It is also included on our company website in three different blogs related to general information about modular construction. All these different paths of publishing educational material help engage potential customers and industry partners at the time they request information. It also provides a powerful visual display of the modular building process, from initial design through occupancy, that enables a greater understanding of the benefits of modular construction.
---
The 11x11 Modular Architecture Book
Entry # 379980

Category: Marketing Piece Print
Company: Casas inHAUS
Medium: Book. Hard cover. 21.5x2x29.7cm size. 192 pages. 1.04kg weight.
Website (if applicable):
Target_Audience
Publication aimed at anyone interested in architecture and home design in a close and informative tone. The texts are mainly in Spanish language, but it is easy to follow thanks to the English translated texts of the important content.
Creative Process
The idea of contributing to the general audience awareness about modular architecture, drove Casas inHAUS to develop a book. A publication that is easily accessible and that communicates some of the completed projects but also the experience about generating a new business model from an innovative idea and its implementation. And of course, the ins and outs of modular and industrialized architecture.
Message to be Communicated
In 'The 11x11 Modular Architecture Book', readers will discover the path and processes that Casas inHAUS has followed to become a leader in the modular architecture and off-site construction sector with its modular housing design and closed price both in Spain and internationally.
Distribution
The first edition of 1000 physical copies of the book has been printed by RBA, a leading publishing company. It is offered at retail outlets in 50 countries and in online bookstores. It is also available in eBook format.
Entry Objective
Casas inHAUS is an innovative company that has reinvented housing conventional construction to achieve maximum efficiency and fast delivery thanks to the industrialization of its processes and the application of the principles of the circular economy. The idea of publishing a book aims to raise awareness of the particular practices of modular architecture in high-end residential projects, which are still young in today's markets, while at the same time making known the projects developed by Casas inHAUS. Inspiring, communicating and sharing the brand values with anyone interested in architecture and design was also an important objective in the writing and design of the book itself. The choice of a generalist publisher and not specialized in architecture is also part of the objective to reach the maximum number of people.
Effect on Awareness, Sales, or Inquiries
It is too early to have precise data on the effect and results because it has been recently launched. Casas inHAUS has planned with RBA different marketing actions and events to present the book in the main architecture and design festivals.
---
Shipping Containers For An Affordable Future
Entry # 381207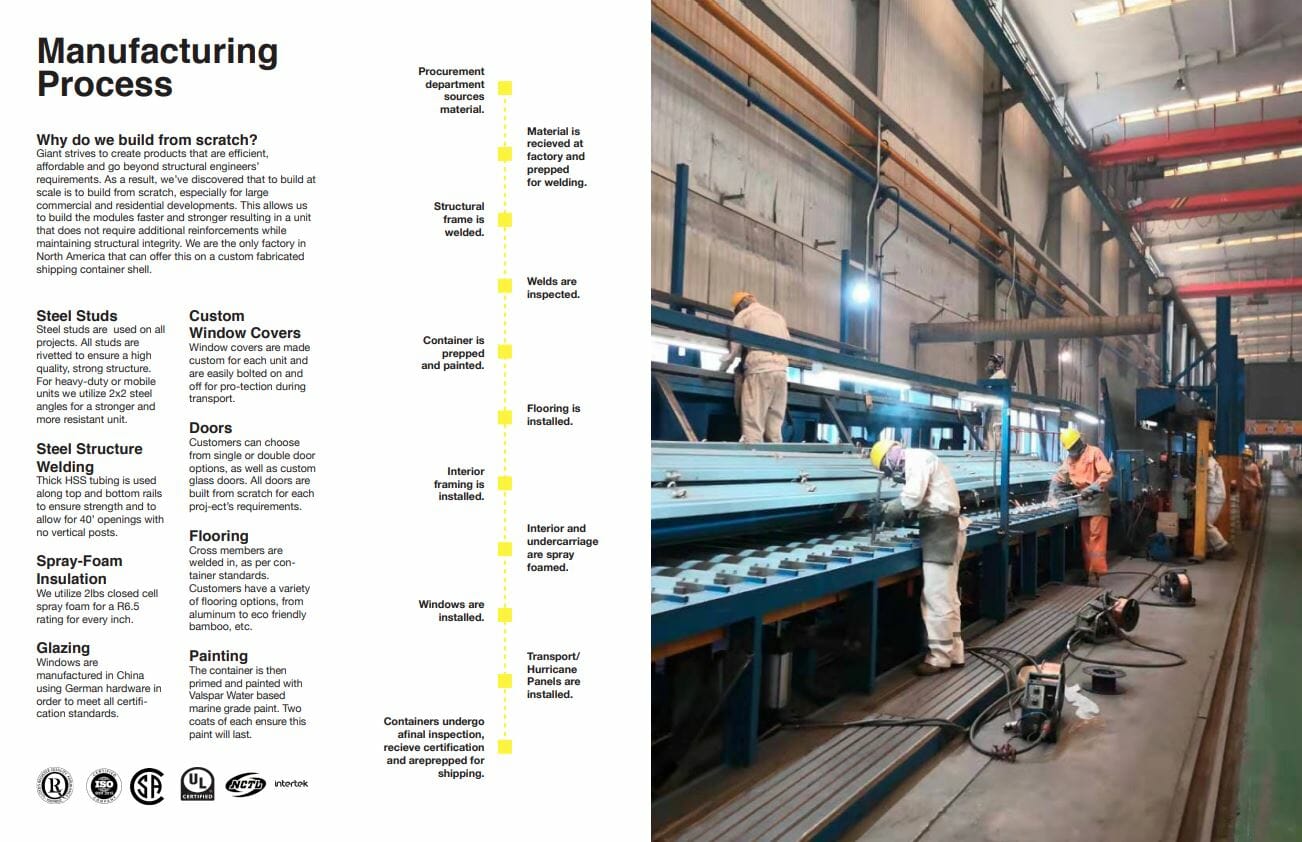 Category: Marketing Piece Print
Company: GIANT CONTAINERS INC.
Medium: Print brochure
Website (if applicable):
Target_Audience
Affordable and Supportive Housing
Creative Process
In house research and development alongside detailed design and engineered plans.
Message to be Communicated
Large scale modular housing to combat homelessness at scale.
Distribution
This was printed as well as issued via pdf.
Entry Objective
Trauma Informed Design. Large scale housing developments can be designed well and have a direct impact on behaviour.
Effect on Awareness, Sales, or Inquiries
Several inquires, currently quoting 3 sites with hopes of going into development mid 2023.
---
2022 Ramtech Building Systems Corporate Brochure
Entry # 382548

Category: Marketing Piece Print
Company: Ramtech Building Systems
Medium: Print Brochure
Website (if applicable):
Target_Audience
Education, healthcare, government, commercial and industrial market end-users.
Creative Process
Ramtech partnered with Bluebird Creative to develop both a print and online corporate brochure.
Message to be Communicated
To encourage prospects to contact us and learn more about our modular construction capabilities.
Distribution
Ramtech developed this brochure for distribution at trade shows and for inside and outside sales.
Entry Objective
Ramtech developed this collateral piece in order to educate and encourage readers to contact us via our company website, or directly in order to learn more about Ramtech's innovative relocatable, permanent, and hybrid commercial modular construction capabilities. The brochure was designed to highlight our approach to modular construction as a design build firm with an extensive project resume of developing projects for a broad spectrum of institutional and industry applications. The brochure focuses on our single-source solution capabilities as it relates to our in-house design, off-site manufacturing, construction services, as well as our modular construction approach to realize faster construction timelines, lower construction costs, increase quality outcomes, and achieve environmental sustainability. The brochure highlights a selection of featured projects from each of the industry markets that we serve along with our ability to react quickly in disaster relief situations.
Effect on Awareness, Sales, or Inquiries
In the three months since Ramtech unveiled the corporate brochure, we have seen a significant improvement in the number of booth traffic visits at the various industry related trade shows that we consistently exhibit at. Specifically, the brochure and its impressive cover image has filled a need to grab the attention of attendees to facilitate sales conversations, meet the needs of providing a comprehensive description of the company that is relevant to the readers, and in facilitating post-trade show calls to action by the prospective customers. By also making the brochure available in digital form, we have been able to increase the number of visitors and conversion inquiries on our website. Additionally, it has served to aid in building an increased awareness of the design-build capabilities we possess for relocatable and permanent modular buildings, while also enhancing Ramtech's reputation as an authority and industry leader in commercial modular construction.
---
Keystone Purchasing Network Informational Flipbooks
Entry # 384159

Category: Marketing Piece Print
Company: Modular Genius
Medium: Digital Flipbook
Website (if applicable): https://www.modulargenius.com/about-us/kpn.html
Target_Audience
Existing and Potential Keystone Purchasing Network Members - A National Cooperative Purchasing Program
Creative Process
To take over 20 documents detailing the Keystone Purchasing Network process and create a single source, easy to read, informational tool for clients.
Message to be Communicated
To show potential and existing Keystone Purchasing Network members the ease of procuring a modular building.
Distribution
Published on our website and distributed via social media and e-mail blasts.
Entry Objective
To simplify the procurement process of modular buildings for state government, local government, and taxpayer-funded education at all academic levels. The Keystone Purchasing Network is a cooperative purchasing program operating under Chapter 19, Intergovernmental Relations, of the Pennsylvania Commonwealth Procurement Code, 62 Pa.C.S.§§1901 et.seq. The Keystone Purchasing Network is free to school districts and other public agencies, allowing members to buy immediately without having to go to bid. The Keystone Purchasing Network writes specifications, advertises for bids, publishes the bid solicitation, accepts sealed bid submissions, evaluates the results, awards to low bidders, and manages awarded vendors. This flipbook assists clients to design the building they need, with a variety of possible modular sections and complete floorplans, along with what steps they need to take to obtain that building.
Effect on Awareness, Sales, or Inquiries
Of the awarded modular contractors within the Keystone Purchasing Network, Modular Genius, Inc. is in a class of its own. We feature a dedicated resource for clients, including preliminary information, floor plans, case studies, and next steps on our webpage for potential and existing KPN members. The flipbook is an all-in-one tool to allow Keystone Purchasing Network members to navigate the steps of procuring a modular building with taxpayer dollars. The flipbook is also a great tool for Modular Genius, Inc.'s Business Development Managers, whether in person or online, to help simplify a complicated process. As a result of the readily available and easy to use flipbooks, our Keystone Purchasing Network clients tell us it was easy to figure out what modular building fits their needs. Furthermore, the Keystone Purchasing Network itself was impressed with the flipbook and requested to use it in their nationwide marketing plan.
---
BOXX Modular US Website
Entry # 369014

Category: Marketing Piece Website
Company: Black Diamond Group
Medium: Internet/website, social media
Website (if applicable): https://www.boxxmodular.com/
Target_Audience
BOXX Modular US' stakeholders including prospective customers, vendors and employees.
Creative Process
We worked with a creative agency to launch the site prioritizing branding, usability and function.
Message to be Communicated
BOXX Modular delivers the highest-quality affordable modular solutions to clients across the U.S.
Distribution
Social media and Google Ads. 54,837 people visited the site in the first 6 months following launch.
Entry Objective
The objective with the BOXX Modular website redesign was to improve the user experience and visual design of a 10-year-old website, creating a more intuitive interface and resulting in more leads and opportunities for our sales team. The redesign also allowed BOXX Modular to integrate and build on the successful components of the Vanguard Modular Building Systems website, a significant asset from the company's acquisition in 2020. A dedicated page shows customers the expansive regions we serve, demonstrating that we work where our clients work. Regional SEO was built into the site to ensure users from across the U.S. interacted with a site that catered to their locale and needs. An expanded catalogue of products and services outlining solutions for a wide variety of industries helps clients from various sectors discover our services and get in touch with our sales teams. A full library of resources displays the BOXX Modular team's capability to complete a variety of projects.
Effect on Awareness, Sales, or Inquiries
Since the launch of the new BOXX Modular website, both visits and contracted revenue have increased by approximately 5 times. Organic traffic is up 7x YoY in the first 6 months, and social traffic is up 4x YoY in the first six months . In the first year since the website's launch, it has garnered more than 135,000 visits, more than 320,000 page views with 2.38 pages per session on average. The site has generated nearly 5,000 leads with a 3.66% visit-to-lead conversion rate. It has also generated 1,327 opportunities and nearly 500 proposals. The site has also helped BOXX secure 144 contracts.
---
VESTA Website
Entry # 370577

Category: Marketing Piece Website
Company: VESTA Modular
Medium: Website
Website (if applicable): https://vestamodular.com/
Target_Audience
Targeted industries looking to use modular solutions to solve their storage and space needs.
Creative Process
Research & Discovery, Wireframe Planning, Design, Implementation, testing & Deployment
Message to be Communicated
Providing temporary or permanent modular buildings to customers seeking a solution for space needs
Distribution
Drive awareness through digital channels such as social media, blogs, PPC ads and email distribution
Entry Objective
The new site has been re-designed and updated with a sharp look and feel including a revamped navigation menu, categorized by industry and product type, to make it more intuitive. The new website offers a clean, modern design, easy navigation and helpful tools and resources. With a heavy focus on our core industry of leasing and selling modular offices and jobsite trailers, we have also included our products for education, healthcare, containers, and specialty units, to deliver consistent, relevant information and resources. With user experience and access in mind, the website has been designed using the latest technology to expand our customers' knowledge and understanding of how modular construction is the building block of the future. By relying on extensive competitor, keyword, and market research, we were able to ensure that the website would help achieve core business initiatives and serve customers, while maintaining our strong digital presence and search engine optimization.
Effect on Awareness, Sales, or Inquiries
With our aggressive content creation based on keyword research, our customers are coming to the website directly with an increase of 44% average time spent. Direct traffic has increased 137% year over year and total site traffic has increased 58%. By adding prominent Calls to Action and quality images on our more relevant home page and location pages, the conversion rate has increased 24% on those pages. Goal completions for initiating contact through our various channels have increased 29.35% resulting in an increased total conversion rate of 34%. Organic leads have had a significant increase since optimizing our SEO and the deployment of the site. With the customer experience and easy to navigate content, our site has seen an increase in our monthly form submissions of 29.35% resulting in more quality, nurtured leads. With the addition of our available inventory page and easier to navigate portfolio page, we have seen an increase in engagement of our downloadable content as well.
---
Tecno Fast Home Website
Entry # 381950

Category: Marketing Piece Website
Company: Tecno Fast
Medium: WordPress Website
Website (if applicable): https://tecnofasthome.cl/en
Target_Audience
People between 35 and 50 years old who are always looking for new emotions to achieve a degree of happiness. His search for these emotions is to travel to new places or to investigate new concepts. Goal: to experience as much life as possible in one lifet
Creative Process
It all started two years ago, the website was very outdated. We wanted to give the website a marketing refresh to give it more content, renew the photos and generate more quotes. We also realized that we had a lot of bounce rates and that people got dizzy when they saw so much information, this caused them to leave the web page. This is why we generated new landing pages to make it easier for people to be able to quote. This greatly increased the contributions to the website and through salesforce we were able to generate more leads.
Message to be Communicated
Publicize all our modular solutions in the housing area. Your house in record time! Follow these simple steps to be able to quote your new modular solution or schedule a visit to our showroom.
Distribution
On the website we have 7 different sections 1. Why do you have to choose Tecno Fast? 2. Our solutions : it is where we show all our modular solutions 3. Quote your house: landing page to quote your next modular solution 4. Steps : steps you must follow to obtain your next modular solution 5.Customer service 6. Success stories: photos of houses already installed 7.Contact
Entry Objective
We changed the entire website to create several landing pages, so we can collect more leads from potential customers. with the aim of generating more quotes and visits.
Effect on Awareness, Sales, or Inquiries
Sales by quotes to the website: US 873168.54 Increase in visits: 418,332 visits Considerable increase in quotes thanks to landing pages
---
Pacific Mobile Structures Website
Entry # 382205

Category: Marketing Piece Website
Company: Pacific Mobile Structures
Medium: Website
Website (if applicable): https://pacificmobile.com/
Target_Audience
Businesses and consumers looking to lease, purchase, or learn more about modular buildings.
Creative Process
Brainstorm/ideate, generate plan, review designs, implement, optimize.
Message to be Communicated
A family-owned company with a customer-first commitment delivering on projects both big and small.
Distribution
Online
Entry Objective
With consumer education being a central objective on the website, Pacific Mobile has generated content optimized for SEO to teach the general public about the benefits of modular construction. As a thought leader, Pacific Mobile wants to provide both consumers and the industry with knowledge-based content that can serve as educational reference points and source material. It's Pacific Mobile Structures' hope that by educating consumers and end-users with this content that the industry can advance forward leaving the stigmas and stereotypes around modular construction behind.
Effect on Awareness, Sales, or Inquiries
Pacific Mobile Structures' new website was designed to bring speed and ease to the forefront of their online presence by creating a user experience focused on the customer. Since implementing this new site, Pacific Mobile Structures has seen its year-over-year web traffic more than double, its bounce rates drop by more than half, and the number of pages per visit increase by over 60%. The quality of leads has improved tenfold and is resulting in higher conversion rates for their sales team. Additionally, the site features tools and resources, like How-To Videos, that allow customers to self-serve on maintenance issues and reach out quickly and easily to the Pacific Mobile Structures' service team for further assistance.
---
Volumetric Building Companies Website
Entry # 382422

Category: Marketing Piece Website
Company: Volumetric Building Companies
Medium: website
Website (if applicable): https://www.vbc.co
Target_Audience
Developers within hospitality, multifamily and student housing sectors
Creative Process
The purpose of the VBC site is to serve as a meaningful way to communicate with our audiences
Message to be Communicated
VBC's mission to drive construction innovation and enhance society through multifamily housing
Distribution
online
Entry Objective
The act of marketing has continued to evolve into a sophisticated machine with many inputs and outputs that interact with audiences who are growing more complex. As a business focused on building the future, we recognized that we needed a website that reflected what it will take to market to the audience of the future. The website facilitates meaningful connections between our team, our customers and our future customers. Visitors are taken on a journey of understanding who we are, what we do, and how we do it. By engaging visitors with increasingly detailed information, we lead them to the right content resulting in the appropriate response. Marrying marketing and business development ensures that each team meets their goals and maintains an open stream of communication both internally and with customers.
Effect on Awareness, Sales, or Inquiries
The design and deployment of the site started with defining our target audiences, purpose and goals. We knew we needed more than a digital brochure. This site was conceived as a meaningful way to communicate with customers and ensure they had the right information at the right time and our team was able to communicate with them through the proper channels. Additionally, we understood that our visitors needed to quickly understand our story, process and the benefits of our products. Finally, we needed a place for our potential new team members to learn about the work we do and why we do it, then have an opportunity to apply for any of the open positions. Our website has served as a landing page for new and potential partners to see a catalog of our successful projects, meet our distinguished team members and keep up with new developments coming from the team. This has resulted in a stronger presence globally and opened the door to a number of new opportunities.
---