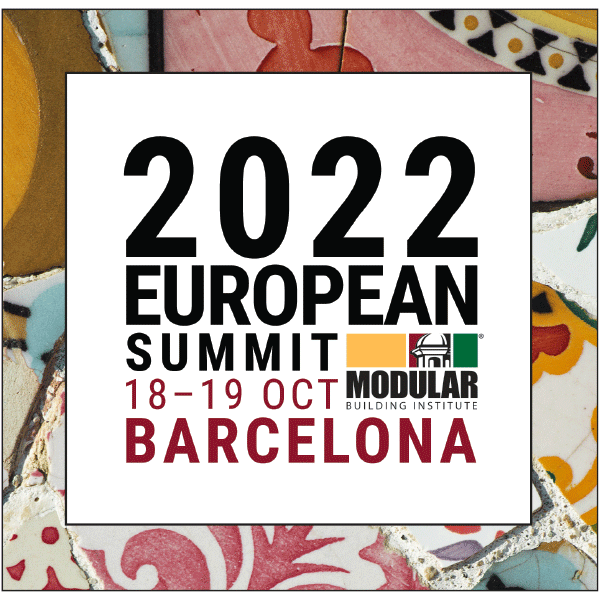 MBI's European Council welcomed international members and leaders to Barcelona, Spain, for two days of modular construction industry networking, education, and planning.
With more than 500 member companies in 20 countries, MBI continues to increase European member involvement and develop opportunities to advance and grow commercial modular construction around the world.
Hosted by MBI's European Council, this summit featured interactive and multilingual presentations and planning sessions that underscored the potential of the modular construction industry in Europe and around the world.
Tuesday, October 18
9:00am - 12:00pm  Council Meeting
12:00pm  Registration Opens
1:00pm - 2:00pm  Network with Exhibitors
2:00pm - 2:15pm  Welcome Announcements – Bostjan Jevsek, Piva Group, MBI European Council Chair
2:15pm - 3:00pm  Session 1: Engineering the World's Tallest Modular Building - Michael Hough
3:00pm - 3:40pm  Session 2: Modular: An Industry Continues to Accelerate - Ewelina Woźniak-Szpakiewicz

3:40pm - 4:00pm  Break
4:00pm - 4:50pm  Session 3: Marketing and Growing the Modular Industry in Europe - Moderated by Bostjan Jevsek
5:00pm - 7:00pm  Networking Reception 
Meeting in Barcelona
MBI's 2022 European Summit proved to be an outstanding opportunity to connect with the international commercial modular construction industry in one of Europe's most beautiful cities.
Reservations are closed for this event.
Hilton Diagonal Mar Barcelona
Passeig del Taulat 262-264, Barcelona, 08019, Spain
Featured Speakers & Session Descriptions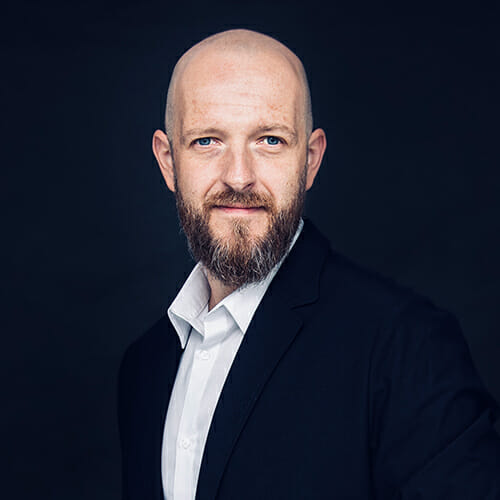 Think Smart from the Start: BIM Design Standards for Offsite Construction
Krzysztof Droszcz, Architect/Founder, iQ Module
Not a lot of us know how to design a modular or offsite building right, how to use multiple elements and regional codes  and materials smart to create cost efficient offsite solution for a client.  Using repeatable standard elements that meets most requirements is a challenge. I will try to get your focus on how we do it from design to execution of the building contract using BIM technology and smart thinking in the production and assembling processes.
Offsite Building Technologies: Steel Construction Systems
Ignacio Polite Giménez, Business Development Manager Ibérica, Manni Green Tech
Manni Green Tech designs and produces dry construction systems that include portant walls and full insulation and envelope. We achieve the best performances as we adapt each system for each project.
Our systems include an LSF structure as the main structure, insulations that we adapt for the requirements, and finishes with many final material options. Our systems use all the materials available to Manni Group, what gives us total control of quality, timing and process.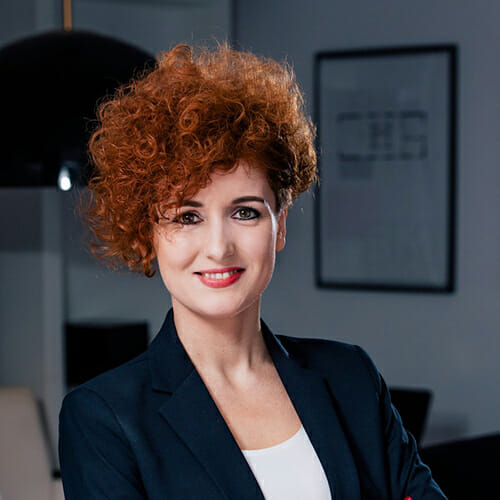 Modular: An Industry Continues to Accelerate
Ewelina Woźniak-Szpakiewicz, CEO, DMDmodular
Last year we saw dynamic growth in the worldwide modular construction industry. One of the fastest growing markets is the UK along with the USA. The UK market for modular buildings is estimated to have increased to around 8% of total construction output. As for the USA market, modular broadly is estimated to make up 5% of the total construction industry but is consistently growing. This progress illustrates a world transitioning the way it builds and thinks about the built environment. When looking at the hospitality, homebuilding and PBSA sector, there is evidence of that change, driven by modular construction technology. DMDmodular is a company that offers unique volumetric modular solutions with a focus on international markets including the UK, Netherlands, Denmark, Austria, and France. The company is currently involved in two PBSA schemes in Edinburg, student accommodation in Copenhagen, multifamily housing in Reykjavik and recreation houses for the Dutch market. In 2022, DMD received the international award in Green Building Category for the co-living modular solution provided to Paris, France.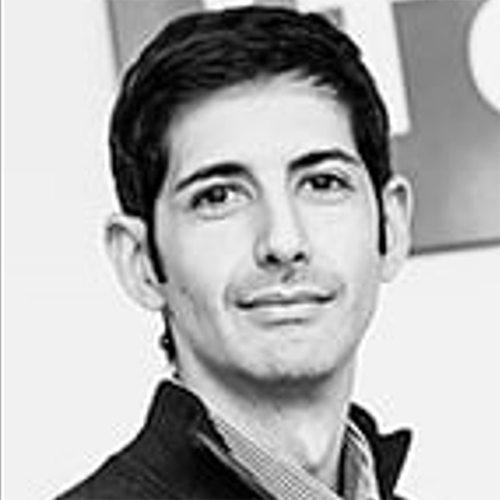 High-Information Sustainable Digitals Models
Licinio Alfaro Garrido, Head, Department of Sustainable Construction, Institute of Construction Technology
It is necessary to create digital models to incorporate all sustainability indicators in our decision making. Not all models provided by modeling software are useful—sustainability requires the creation of models with high information to understand the points where it is less efficient and where it generates more impact. This presentation will explain how digital models should be created in order to extract the maximum sustainability parameters from them, as well as going deeper through examples of how digital models have to be structured to demonstrate all the advantages of modular construction. It will also be explained how the application of methodologies such as life cycle analysis can facilitate the dissemination of the environmental advantages of modular construction.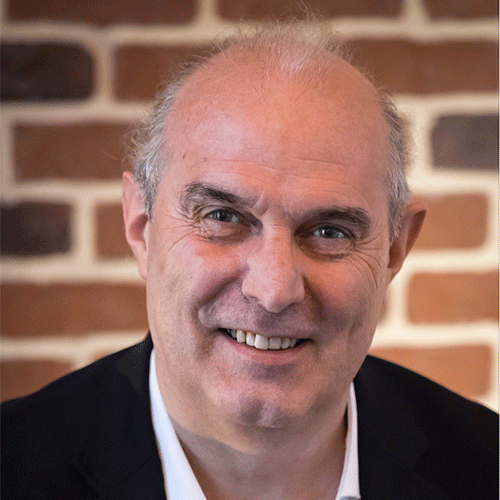 Sustainable Construction Through Industry
Pascal Chazal, CEO, Hors-site Group
The world is facing huge challenges, and onsite concrete-based construction has no choice but to change. Off-site construction is one of the keys to success, but it is necessary to understand the difference between prefabrication and industrialization. It is possible to transfer labor hours to a factory with prefabrication, but the real change will come with industrialization and standardization. Traditional construction works in a top-down way, a plot of land is identified, the architect draws the plans, and companies are consulted. Industrialization requires us to think differently, we must imagine building "bricks" that meet the needs of the market, that we can manufacture efficiently in a factory, and that architects will use to design their building. This is entirely possible, as demonstrated in France for the 2024 Olympic Games, saving 35% on the price of a building with this new approach.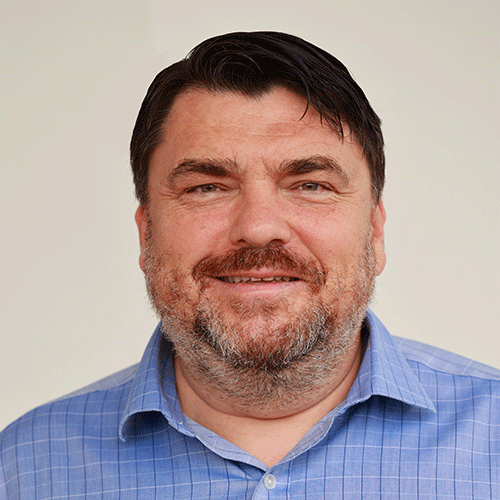 New Window & Wall Technologies for Modular Markets
Bostjan Jevsek, International Business Development Director, PivaGroup
PivaGroup is one of the leading window and wall panel supplier to modular and prefabricated companies around the world. We have window factories in Europe and the USA. During 40+ years of supplying to modular industry we have developed numerous special solutions to help modular increasing the energy efficiency of their buildings, while simplifying installation and maintenance of the windows. One of the latest products is Passive house certified window, developed specially for installation into modular buildings and panelized walls. We are in a unique position producing different panelized wall solutions as well, thus offering our clients ready-made prefabricated wall segments, delivered to their factories for "just in time" installation into the modular buildings. We will also showcase study cases from around the world.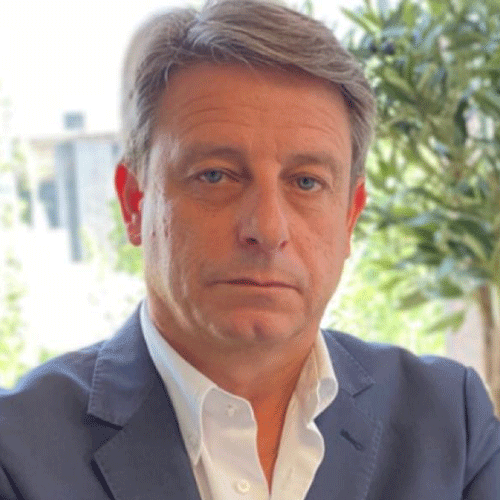 Industrialization from the Real Estate Developer Perspective
José María Quirós, Industrialization Director, Aedas Homes
The new paradigm of industrialization opens new unknown scenarios within the sector. As promoters we have a very clear vision of the risks, opportunities, strengths, and weaknesses that industrialization entails and how to face them safely and decisively. Join José María Quirós, Industrialization Director at Aedas Homes, as he discusses industrialization from the perspective of a real estate developer.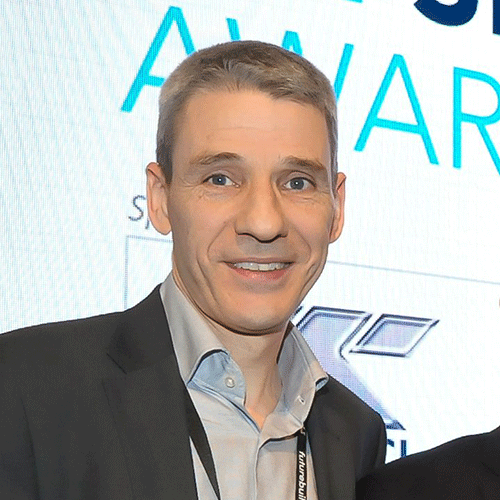 Delivering High Rise Modular Buildings
Michael Hough, Managing Director & Founder, MJH Structural Engineers
Michael Hough is the managing director and founder of MJH Structural Engineers, a specialist consultancy based in Dublin, Ireland who specialise in structural engineering design for modular construction. MJH Structural Engineers in partnership with Vision Modular Systems have delivered several high-rise modular buildings in London, England over the past few years, showing the possibilities of modular construction whilst simultaneously changing the landscape of the modular construction industry. Some notable projects that MJH has taken the lead on recently include 101 George Street and College Road Croydon, a pair of striking towers 136m and 154m tall which form part of the regeneration of Croydon. 101 George Street is currently the tallest modular building in the world, soon to be surpassed by College Road. While these buildings stand alone as exemplar projects in the increasingly competitive space of modular construction, their accomplishment is further enhanced considering that these buildings are part of a pipeline of continuous output by Vision Modular Systems.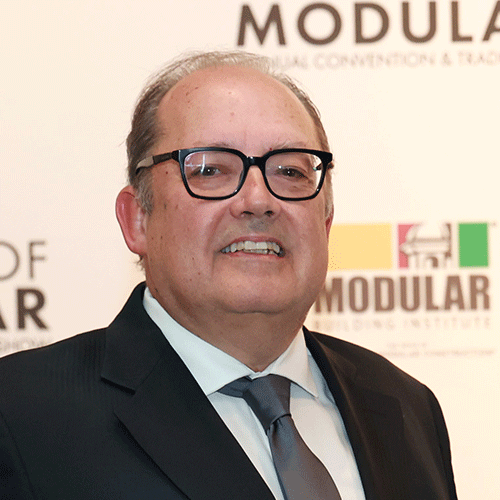 Bringing Your Product to the USA: Pitfalls and Regulations
Ralph Tavares, PE, CEO, R&S Tavares Associates
This unique session offers attendees an opportunity to hear from an internationally renowned expert on commercial and residential modular building codes, design, and engineering. Ralph Tavares is a professional engineer and is CEO of R&S Tavares Associates. He will review the largest US jurisdictions that impact design approvals and inspections of modular buildings, including those built in Europe and elsewhere and destined for America. Attendees will learn how the design and delivery process of modular construction differs from traditional construction, see examples of the wide range of applications for approvals for materials produced in one country but shipped to another, and hear best practices for building approvals, permitting, and inspections.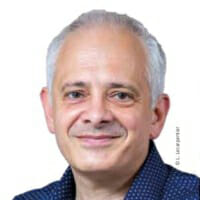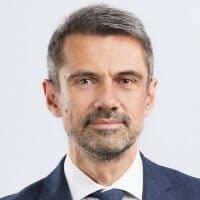 Certifying Modular Buildings for Lifetime Usage & Meeting New Environmental Regulations
Philippe Beato, President, Locacuisines &
Eric Aurenche, President, Groupe Solfab Construction Modulaire
New French environmental regulations called RE2020 create new rules for the energy, environmental, and health performance of new building projects with the clear objective of ensuring that future buildings in France will meet climate change challenges. RE2020 strengthens the requirements applicable to new buildings in order to reduce the carbon footprint associated with the building industry and its impact on climate change throughout the life cycle of the buildings. It also seeks to boost resilience of construction against the consequences of climate change. In addition, the Centre Scientifique et Technique du Batiment has launched its QB53 certification for modular buildings and addresses four steps of lifetime usage of a building: design, manufacturing, assembly, and disassembly.
Registration, Participation & Cancellation Policy
Once payment for your registration has been received by MBI, a confirmation will be emailed to attendees.
Exhibitor: MBI must be notified in writing in the event of cancellation or space reduction. Fifty percent (50%) of the exhibit fee will be refunded for cancellations or reductions made no less than 46 days before the first day of the conference. There are no refunds for cancellations or reductions made 45 days before the first day of the conference.
Attendee: Full refunds for attendees, one day passes, and spouse/guests (not exhibitors), less a US $100 processing fee per registrant, will be granted for cancellations made in writing no less than 46 days before the first day of the conference. There are no refunds for cancellations made 45 days before the first day of the conference. Registrants that fail to attend the conference without notifying MBI prior to 45 days before the first day of the conference are responsible for the full registration fee. Substitutions are encouraged. Sharing of registrations is not permitted.
Participation and Behavior: The Modular Building Institute (MBI) is committed to providing a safe, productive, and welcoming environment to all participants. Participants are expected to conduct themselves professionally at all times of the conference. Use of obscene language, abusive behavior, or threatening behavior directed to any other conference participant or staff is not conducive to a learning environment and will not be tolerated. The MBI staff has the right to remove any participant that is in violation of this policy and no refunds of registration will be granted.
Use of Personal & Registration Information: The Modular Building Institute (MBI) is committed to data privacy and protecting your personal information. By registering for the conference and submitting your contact information during the event registration process, you agree that MBI may share your information with event participants (exhibitors, sponsors, and attendees) and that you may receive event related information from MBI and its participants. Otherwise, MBI does not sell, rent, or share contact information with third parties.
Photo & Video Disclaimer: The Modular Building Institute (MBI) reserves the right to use any photograph/video/screen capture taken at any event produced or sponsored by MBI, without the expressed written permission of those included within the photograph/video/screen capture. MBI may use the photograph/video/screen capture in any media including but not limited to brochures, invitations, books, newspapers, magazines, television, websites, etc. You agree to release, defend, hold harmless, and indemnify MBI from any and all claims.
COVID-19 Release & Hold Harmless Agreement: By participating in a Modular Building Institute (MBI) event, meeting, or function you acknowledge that there is an unknown risk of your exposure to COVID-19. Such exposure carries with it a certain degree of risk that could result in illness, disability, or death. You agree to release and hold harmless MBI, its employees, officers, and vendors from and against all claims of damages and liability resulting from exposure to COVID-19.
Participants are encouraged to follow the US Centers for Disease Control & Prevention (CDC) guidelines before, during, and after an MBI event, meeting, or function. The CDC's COVID-19 community-level tool classifies US counties into low, medium, or high with recommended prevention measures for each level. The CDC also has requirements and recommendations for domestic and international travel. CDC information regarding how to protect yourself from COVID-19 is available on their website at https://www.cdc.gov/.
At this time, participants at an MBI event, meeting, or function are not required to provide proof of vaccination, antibodies, and/or negative tests or wear masks. If you are feeling unwell, have any symptoms associated with COVID-19, or have been in contact with anyone who may have COVID-19, you should stay home.