WORLD OF MODULAR: MODULAR CONSTRUCTION'S PREMIER EVENT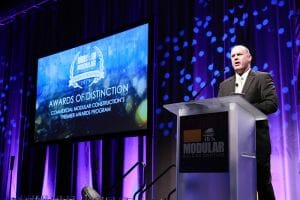 Modular construction is growing in popularity all over the world, and as a result, modular trade shows have become well-attended events in recent years. The Modular Building Institute hosts an annual event called World of Modular, which has repeatedly proven to be the best event in the industry, providing education, resources, and information to an international audience. Read on to learn more about World of Modular and what you can expect to see at this prestigious event.
About World of Modular
For almost 40 years, the Modular Building Institute has provided professionals in the modular building industry a place to network, exchange ideas, learn from experts, discuss ideas, display new products and receive well-deserved recognition. New products are up for display and the most knowledgeable speakers in the industry gather to educate attendees on all the latest modular construction trends.
Hundreds of participants come from all over the world to MBI's signature trade show. It is one of the best places to reach manufacturers and dealers of commercial modular buildings and products from all around the globe. In fact, over the past two years, construction professionals from 30 countries have attended World of Modular. Interest in prefab and modular construction has been on the rise in the past few years, and this event offers a fantastic opportunity to learn everything you need to know about this growing industry.
Awards of Distinction
Every year, the Modular Building Institute awards its members in different categories, like permanent modular buildings, relocatable modular buildings, renovated reuse buildings, and more. Awards are granted to individual modular construction projects and are judged on a number of criteria like energy efficiency, architectural excellence, technical innovation, cost-effectiveness, and length of time for the project to be completed from start to finish. Working in the modular construction industry requires skill, adaptability, and efficiency, and these awards are a chance to recognize leaders and innovators in all different areas of the industry. Participants compete to create the best entries while striving to provide cutting-edge solutions to solve global problems and promote the advantages of modular construction around the world.
There are many great reasons to attend this year's trade show. Those who are attending have a rare opportunity to connect with MBI's staff, directors, and members all in one place. "The commercial modular building industry is a tight-knit community, and World of Modular is a great event to come to because the core of the industry is there," says Alan Rasmussen, VP of Production at Modern Building Systems. "Be it to network, brainstorm, collaborate with peers and friends, meet potential customers, or meet with vendors. I look forward to World of Modular every year, and come back informed, motivated, and recharged."
All attendees have the freedom to network with hundreds of builders, contractors, architects, dealers, and service providers, and learn more about their perspective on trends in the industry. And with an attendance growth average of nearly 25% over the past two years, the time has never been better to register.
Breakout sessions feature industry experts talking about the most essential topics in the field. Learn about construction best practices, lean construction, how to integrate site-built and modular buildings, and LEED. If you want to be in the know about what's going on in modular construction this is the most important event to attend this year. The modular construction sector is expanding rapidly, so now is the time to learn all you can. Many global industries are beginning to recognize modular construction as a solution to their building needs.
Modular construction is becoming a trend as people begin to realize that is environmentally friendly, cost-effective, and often quicker than traditional construction. If you want to be a part of the longest-running, best-attended and most well-respected event in the industry, this is your chance. MBI is the leader in commercial modular construction and is helping to bring it into the future, and World of Modular is your opportunity to learn from the best. World of Modular 2020 may prove to be the best year yet!
This is an online exclusive article.