FOLSOM HOTEL OPENS FIVE MONTHS EARLY USING MODULAR CONSTRUCTION
The Fairfield Inn in Folsom, CA was Marriott's first hotel built using offsite construction methods. Guerdon Modular Buildings, a member of the Modular Building Institute, harnessed hybrid techniques while building the 97 room, 52-module hotel.
All the suites on the first floor and the entire second and third floors are made up of modules while half the first floor, including the entry way, pool, and other amenities were site-built. This created a unique challenge as half the building was built on a crawl space and the other half of the building (the site-built portion) was built on a slab foundation. Each module is configured to contain two rooms and a portion of the corridor. Select modules on the second-floor jetty out over the first-floor modules adding some architectural design as well as allowing for greater guest space in the upper floors. Modular construction is a perfect fit for hotel construction given the slim room profiles, double loaded corridor and duplicating room pattern.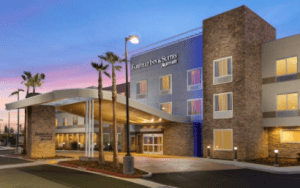 Only 275 days elapsed from groundbreaking to occupancy, allowing the developer to begin collecting revenues five months earlier than if the building had been constructed using traditional on-site techniques. The timing is especially significant when noting the downturn of the labor market; halfway through the project, the general contractor experienced a difficult time sourcing subs, but the project timeline was not significantly derailed because approximately 80 percent of the work had already been completed out of state, in a market that was mostly unaffected by the labor shortage.
A major innovation born from this project was installing the room furniture, fixtures, and equipment while at the factory. Requested by the client, the practice has now become standard for most hotels that we build. Furniture, fixtures and equipment includes beds, sofas, chairs, desks, end tables, lamps, art, and more. Even operating supplies like pillows, blankets, soap, coffee makers, and more were included in the rooms, tied down for shipping. The factory installation of these items had multiple benefits; saved site crews time, reduced trade damage, eliminated storage and theft issues, and helped the housekeeping staff get the hotel open sooner. In practice, it is possible for housekeeping staff to prep and ready the rooms for guests in as little as three hours.
This is an online exclusive article.