LOOKING BACK AT WORLD OF MODULAR 2020
This year's World of Modular--the modular construction industry's premier trade show and convention--was incredibly successful. As hosts of the event, the Modular Building Institute welcomed hundreds of attendees, exhibitors, and industry affiliates, all of whom enjoyed a productive and smoothly-run show in at the Rosen Shingle Creek resort in Orlando, FL. Michelle Blackburn, an exhibitor from Johns Manville put it optimistically, "MBI has done a great job delivering the best possible experience for the customers and exhibitors given what's going on in the economy and what's going on with the coronavirus right now." The event opened with a golf tournament on the beautiful Rosen Shingle Creek course. After an afternoon of golf and catching up with friends old and new, attendees were welcomed to the World of Modular with a spectacular opening reception.
The evening featured food, drinks, entertainment, and plenty of opportunities to network with a "who's who" of the modular construction industry.
On Tuesday morning, Terry Jones, founder of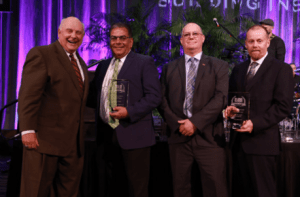 Travelocity, presented an inspiring keynote on disruption and innovation. A number of other notable breakout sessions occurred that morning. The speakers who presented at World of Modular were key to the valuable exchange of information that made the event such a success. Speakers came from a variety of backgrounds, including architecture, development, contracting, manufacturing, finance, legal affairs, and technology. It was incredibly valuable to have such a wide array of speakers present their expertise.
The convention as a whole was diversely attended. More owners, developers, and design professionals attended this year, as well as numerous industry affiliates. In addition, nine state regulators were in attendance with their staff. This enabled MBI to strengthen these working relationships and lay the groundwork for additional regulatory work on behalf of the industry.
The second keynote of the week came from economist Anirban Basu, founder and CEO of the Sage Policy Group. He spoke to the gathering about the future of the construction industry within the wider context of the economy at large. He offered important principles to modular businesses as the economy shifts.
The exhibit hall opened Tuesday afternoon and remained open into Wednesday morning. Many attendees noted being impressed by its scope, with one exhibitor, Paul Jakse from AeroGo, mentioning, "It's the people I want to connect with. They're all here." The business development opportunities at World of Modular make it a must-attend event. One attendee noted, "World of Modular continues to be the flagship trade-show for all things regarding modular buildings."
Of course, all good things must come to an end. The closing Awards of Distinction wrapped up the event in grand fashion. MBI recognized a number of companies for their outstanding modular construction projects. Additionally, awards were given for personal achievement in the industry. Kathy Wilmot received MBI's Outstanding Achievement Award and brothers Bob and Craig McNeil were inducted into the MBI's Hall of Fame for their long records of service to the industry as leaders of NRB, Inc. It was a special night of celebration to close out a productive and valuable week of learning, networking, and celebration.
With World of Modular behind us, the modular construction industry has much to do. It's events like World of Modular that offer inspiration, connection, and resources that make our industry what it is. One attendee said it well: "If you are in the modular industry at any capacity...you need to be at World of Modular."
To see all the pictures from World of Modular 2020, click here.
This is an online exclusive article.