MBI member Ri Spa of Trepuzzi, Lecce recently completed this 15 square meter mobile medical facility used on location in Rome, Italy.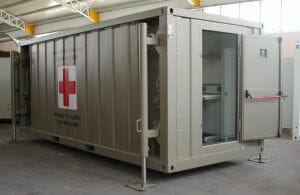 Completed in just 28 days, this medical and technological shelter is unique in terms of safety and innovation. This unit can be used for a variety of medical purposes including dentistry, analysis laboratory, and first emergency. The unit can be used for the realisation of a mobile surgical hospital for emergencies or for integrating into traditional hospital surgical facilities.
Ri Spa's medical shelter is engineered to provide a high level of safety, durability, customization, and rapid installation in remote and extreme areas anywhere in the world. Energy-efficient technologies include digital equipment that will allow mobile generators that power equipment to reduce fuel consumption and increase power efficiency.
The expandable unit is fully equipped for satellite teleconsultation. Additionally, the unit is transportable and made entirely with natural and recyclable materials that can create aseptic environments suitable for surgeries.
Ri Spa is a leading Italian manufacturer of modular buildings.
This article was adapted from an Awards of Distinction entry. Browse more projects.