Covid-19: The Modular Industry's Response
After much determination and hard work, the modules were being stacked at the Good Samaritan Hospital in New York, USA. John Buongiorno, Director of the Modular Division of the Axis Construction Corporation and Jim Gabriel, General Manager of MODLOGIQ, had driven through deserted, pandemic-stricken streets to witness the event.
A group of nurses, head-to-toe in apocalypse-style PPE, stepped outside the hospital during their break. They were impressed by the speed at which their new pediatric emergency wing was coming together.
"You guys are miracle workers!" one of them exclaimed.
"Are you kidding?!" Gabriel said to the nurse. "You're taking care of people, saving lives. You're the miracle workers! We're just building a building."
While Gabriel was right to praise the healthcare heroes, the modular construction industry has responded impressively to the pandemic in its own way.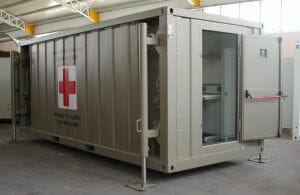 Here, we celebrate how companies in the modular industry have risen to the challenges of a global pandemic. They've stepped up, helped out, and worked together — making the industry a shining silver lining during the crisis and beyond.
Hospital Space
Good Samaritan Hospital, New York
Before the pandemic reached the United States, MODLOGIQ and Axis had already been working on the Good Samaritan Hospital project.
Then COVID-19 tightened its grip on New York.
"In early March, the New York governor mandated that hospitals increase their capacity by 50%," says Buongiorno. "So the hospital asked us to expedite completion of the building." Luckily, healthcare construction was deemed an essential activity in New York. So, site work could continue — with crews working overtime to increase speed. Unluckily, though, MODLOGIQ's Pennsylvania facility was shut down, along with almost everything else in the state.
"We called representatives and anyone else we thought might help get us a waiver," recalls Gabriel. "Because we were building a hospital for New York and you can't get much more essential than that!"
In the end, the client wrote to Pennsylvania state agencies requesting that work on the Good Samaritan hospital building be allowed to continue. Fortunately, permission was granted and the manufacturing facility could double-up crews to compensate for lost time.
But it wasn't smooth sailing yet.
"Our site contractor had two people test positive for COVID-19," says Buongiorno. "And they'd been in contact with their staff and workers, both on our site and on others. That contractor shut his business down for 10 days. He worked nowhere. Although we completely understood the need for safety, it meant we were stuck."
Gabriel's plant was also not immune.
"One of our team started to feel unwell, and went home," says Gabriel. "He turned out to have COVID-19. So we had to shut down again and completely sanitize everything."
Despite the obstacles, they ultimately prevailed. The modules were delivered to the site well ahead of the initial schedule-much to everyone's relief.
Navicent Health Medical Center Hospital and Phoebe Putney Memorial Hospital, Georgi
BMarko Structures also delivered hospital modules — which they named "Liberty Boxes" — with speed. This small business located in Georgia, USA, prides itself on being 100% on time. They knew they could rapidly build hospital space from shipping containers.
"We put our offering online and emailed emergency management agencies on a Sunday in March," says Antony Kountouris, Chief Executive Officer of BMarko Structures. "The Georgia Governor's Office reached out to us on Wednesday, and by Monday we had a contract. We submitted the invoice; they paid the down payment the next day. It was astonishing how fast they moved. They meant business."
To build 48 patient rooms from 42 containers in under 3 weeks, BMarko Structures needed to hire lots of labor. A job ad they posted on Craigslist went viral — likely because so many people in the area were out of work. One electrical subcontractor brought a dozen electricians, but BMarko also had individual contracts with about 130 people.
"We just kept hiring people," Kountouris says. "We'd call someone on a Sunday at 8:30 in the morning. They'd ask when we needed them to start, and we'd say, 'Today. And can you bring some of this material we're missing?' Some of them were willing to play ball and they were the right people for us!"
Georgia is a top film and TV production area in the United States. But because of the pandemic, "Film set crews were sitting on their couches, out of work," Kountouris says. That talent was available for BMarko to tap into. (One of the 24 welders they hired Kountouris is described as 'phenomenal'. He'd welded for Disney for a decade.)
"I might say that we needed a 100-kilowatt generator," Kountouris says. "And they'd ask when we needed it. I'd tell them we needed it now. And they say, 'OK, I'm on it!' That wasn't weird to them. In the construction industry, that's definitely weird!"
A big challenge was that they had to start building before the engineering and design work was completely finished. "That was really difficult. I don't advise it!" laughs Kountouris.
They were able to pull it off, Kountouris says, only because everyone knew how important it was. "We had no days off, some of us were putting in 17-hour days. We'd barely sleep and still had to be here at 7AM the next day."
Preparing For the Next Wave in France
In March, in response to a lack of beds and intensive care units, the French Ministry of the Armed Forces issued a call for projects to address the need. They were concerned about the current crisis, and also about a possible second wave of COVID-19 patients.
Xavier Jaffray, the Chief Executive Officer of LECO, responded to the call. LECO has one permanent factory in the west of France. But their typical routine is to rent temporary space and hire temporary labor to manufacture modules.
Because of this model, "The right question is not, 'How many hospitals can you build?''' Jaffray says. "Instead, the right question is, 'How many hospitals do you need?'. If you need 10 hospitals, we can rent the space and hire the workers so we can build 10 hospitals. If you need 20 hospitals, we'll build 20 hospitals."
Aiming to be in time for a second wave of COVID-19 patients, LECO will begin construction on two hospitals in October. They will be operational 6 weeks later.
Typically, when LECO opens a factory, the first two weeks are spent training new workers. To maintain physical distancing, LECO developed an online learning platform. They're using this to quickly train the workers who will build the hospital modules. 700 people have used it and are ready to build.
A challenge LECO has faced with building hospitals quickly is currently unreliable supply chains. They've overcome this by working closely with Saint-Gobain, a multi-national company headquartered in France. A colleague at Saint-Gobain checked which materials and components were in stock. "We designed the hospitals only with components that we know are in stock," Jaffray says.
Field Hospitals, A Diagnostic Center, and Triage Facilities in Italy
R.I. Group is an Italian modular construction company. In March, it won a tender with the NATO Support and Procurement Agency to manufacture fully-equipped field hospitals. Delivery had been planned for early 2021, with manufacturing to begin this summer.
"However, given the current emergency, we started manufacturing in April so we can deliver the first two hospitals as soon as possible," says Giovanni Violante, Managing Director of R.I. Group.
"These field hospitals will include interconnected containerized shelters, as well as tents," says Violante. "They will have a triage area, first aid, X-ray and ultrasound laboratories, a surgical preparatory room, operation and hospitalization areas, and a pharmacy."
R.I. Group has delivered a mobile diagnostic center to one of the main COVID-19 hospitals in the Apulia region of Italy.
"The facility is for triage of patients who will be sent to infectious diseases wards at the hospital," explains Violante. "It consists of seven modules. One is for admissions, three for temporary hospitalization, one for medical staff, and two for technical rooms and bathrooms. It will remain at the hospital even after the pandemic emergency."
The company has also delivered modular units for triage at a hospital in Castellana Grotte, in southern Italy.
Other health & hygiene spaces
Many modular companies have quickly built, mobilized, or developed space for health and hygiene purposes. These include testing, screening, handwashing, showering, and disinfecting.
Quick Deployment
WillScot has a large inventory across North America. "We have about 80 million square feet of modular space," says Scott Junk, Director of Marketing. "About a quarter of it is ready at a moment's notice. Another 50% could probably be ready in a week or 10 days."
So they're well placed to help in an emergency. Many of the buildings they've deployed are panelized. Panels can be swapped out to customize the buildings for clients. Different sized windows and doors can be put in. And the modules can be placed in different configurations, including stacked.
They've deployed space for testing and screening in New York and New Jersey, USA. The General Jewish Hospital in Montreal, Canada is also using some of WillScot's buildings for assessment and testing of employees before they enter the main hospital buildings and come into contact with patients. The company has also deployed handwashing stations in locations across North America.
Testing and Quarantine Spaces
JMO Modular is based in southern Illinois, USA. The President, Joe Helleny, explained that the weather can change quickly in the area. The changeable weather was causing problems for the local hospital system that had been using tents for COVID-19 testing sites.
"They wanted more robust testing locations," Helleny explains. "So we're placing three containerized offices for their mobile outdoor testing sites. That was a proposal last week, a project next week."
Speed was also a factor for quarantine space JMO Modular deployed for a veterans' home in Anna, Illinois.
"The building was already set up like an exam room, so it was perfect," Helleny says. "They signed a contract within 48 hours and we had it on site and ready to go within two weeks."
Showers for Medical Staff
Wilmot Modular Structures is based in Maryland, USA. They've deployed screening space and handwashing stations, and also built shower space for medical personnel.
Vice President and Chief Operating Officer, Kathy Wilmot, explained that some hospitals in the area are caring for COVID-19 patients in converted convention centers.
"We built some shower containers for these retro-fitted convention centers," Wilmot says. "At the height of the pandemic, it was hard to find the fixtures, but our purchasing guy worked practically 24/7 to procure everything we needed!"
Supply chains were challenging in other ways too. Once the pandemic hit, some of Wilmot Modular's existing customers asked to switch their soap dispensers for touchless, motion-detection versions. "But this kind of thing was hard to get!" Wilmot says. "We had to go outside our normal supply chain and find new suppliers. That's good — because it improves our ability to find materials and parts in the future."
Pre-Screening Spaces
Canadian company, Horizon North, provided a structure for pre-screening outside a hospital in Ontario. In Western Canada, they've also rented out "quite a bit of space for pre-screening in workplaces, such as on construction sites," says Joseph Kiss, President of Modular Solutions at Horizon North.
As well as providing health and safety spaces for others, the company's own health and safety practices were scrutinized. "Our Grimsby, Ontario manufacturing facility was third-party inspected for our COVID-19 safe work practices and protocol," says Kiss. "We came out with flying colors."
As well as manufacturing modular buildings, Horizon North deploys and runs workforce accommodation. Their health and safety practices on this front were also endorsed by a third party. Rod Graham, Co-Chief Executive Officer of Horizon North Logistics says, "The Minister of Energy in British Columbia adopted our COVID-19 hygiene protocol for any industrial work camps in the province."
Assessment Centers & Washroom Facilities
The Black Diamond Group has two business units — Modular Space Solutions (which includes the Boxx and Britco brands) and Workforce Solutions (which provides workforce accommodations). They serve customers throughout Canada, USA, and Australia.
"Our industry as a whole does a great job of responding to crises: forest fires, hurricanes, tornadoes — and pandemics, apparently," says Toby LaBrie, Executive Vice President and Chief Financial Officer of Black Diamond Group.
Black Diamond Group itself is no stranger to helping out in a crisis.
"We supply buildings to fire fighters during forest fire season," says Christoph Neufeld, Regional Manager at Britco. "We helped out during the California forest fires and during the Fort McMurray fires a few years ago. When there's a hurricane in the US and people's homes or offices are destroyed, we provide temporary space. We're proud to do our small part to help communities affected by a disaster."
They've been able to provide COVID-19 assessment centers in a number of jurisdictions. And they've also seen increased demand for washroom facilities.
"Large construction sites might have three hundred people working onsite for a few years," says Neufeld. "In the past, portable toilets were acceptable. Now, they want proper washroom facilities, which we've provided."
Disinfecting Cubes
Xtreme Cubes is based in Nevada, USA. In response to the pandemic, they've built healthcare space, deployed handwashing stations, and developed a new product — their Xtreme Opti-Clean Cube.
The handwashing stations they've built and deployed have hands-free faucets, soap dispensers, and hand dryers. "Each unit has four sinks, each about six feet apart, a fresh water tank and a waste water tank," says Vice President of Sales, Randy Gonzalez.
"Some amusement park chains are in discussions with us about ordering them to place around their parks so people can constantly wash their hands. They have fork pockets on them, so they can be picked up and moved to a different location."
The company also supplied two buildings to the Southern Nevada Health District. One was 5,000 sq. ft, the other 2,000 sq. ft.
The larger building includes 29 private patient rooms, exam rooms, showers, a kitchen area, a nurses' station, and a pharmacy.
"The smaller building includes exam rooms and biocontainment units for isolating COVID-positive patients." These units have HEPA filters and negative pressure to minimize the risk of spreading the virus.
The pandemic also sparked Xtreme Cubes' creativity. They developed their Xtreme Opti-Clean Cube, which is a special disinfecting unit designed to reduce the spread of infection.
The idea is that a person walks through the structure before entering a building. "We've had interest from sports arenas, hospitals, supermarkets, construction sites, banks, amusement parks, hotels, and casinos," says Gonzalez.
As the person walks through, they're sprayed with a dry mist. The mist kills the coronavirus responsible for COVID-19 on clothing and exposed skin. The mist is a nontoxic disinfectant that occurs naturally in the body. (It's produced by white blood cells to fight infections.)
"The same hypochlorous solution is used in eyedrops," says Gonzalez. "It's been used for decades in hospitals for disinfecting surfaces, and by the military for treating wounds."
Gonzalez is optimistic that the Xtreme Opti-Clean Cube will be helpful now and in the future. "This is a unique and creative weapon against COVID," he says. "It helps keep employees and customers safer, and helps keep businesses open."
Quarantine Pods, Screening and Testing Pods
Headquartered in Alberta, Canada and Colorado, USA, PCL Construction operates in Canada, USA, Australia, and The Bahamas. Their modular division, PCL Agile, collaborated on developing two products: Quaran-Tin Pods and Citizen Care Pods.
The Quaran-Tin Pods are retro-fitted shipping containers, designed for care and isolation of COVID-19 patients. Each unit has its own HEPA filtering system and negative pressure, to avoid spreading the virus.
Citizen Care Pods are also built from shipping containers. They're designed for safe COVID-19 screening and testing — and, eventually, vaccination.
The multidisciplinary development team involved a number of different companies. It took less than a month for them to develop Citizen Care Pods from concept to completion.
Each pod has a built-in Internet of Things (IoT) platform to monitor and issue notifications about temperature, pressure, and humidity inside the pod. On the outside of each pod, AI-enabled cameras collect data on how many people are waiting and for how long. This information can be used to predict future needs for staffing and supplies.
"A challenge we faced was prototyping and manufacturing a product while normal supply chains were disrupted," says Troy Galvin, Manager of PCL Agile. "So the team designed and built the Citizen Care Pod using only materials and parts that were already available."
Galvin credits the speedy development of the pods "to the passion and can-do attitude of the partnership group, providers, and suppliers."
Other Types of Space
Modular companies have provided space to address physical distancing, homelessness, and social isolation.
Physical distancing reduces the spread of COVID-19. In many cases, to allow employees to maintain physical distance, extra space is needed.
'Stay at home' is important advice that most of us have been able to follow. The homeless population can't, though. Some jurisdictions have responded by providing temporary accommodation. But others have decided to tackle homelessness for the long term.
Another population that's especially vulnerable to COVID-19 are older adults in nursing homes. Physical distancing is important for this group, but social isolation is a serious risk.
Physical Distancing
"Some of our buildings are being used for physical distancing," says Scott Junk, Director of Marketing at WillScot. "Where a company may have used one or two buildings in the past, they now need three or four."
WillScot buildings are being used for extra office space, breakrooms, lunchrooms, and classrooms across North America. "From Balfour Beatty in San Diego to the Poland Springs drinking water company in Maine," says Junk.
Wilmot Modular Structures has also supplied physical distancing space. "Several of our clients asked for additional mobile offices. They want to split up their team and maintain physical distancing," says Kathy Wilmot, Vice President and Chief Operating Officer. "If someone gets COVID-19, then it reduces the risk of exposure to only two or three people — rather than their entire team."
Accommodations and Visitation Centers
"Some defense and government clients needed to house people closer to their sites," says Toby LaBrie, Executive Vice President and Chief Financial Officer of Black Diamond Group. "We've provided large format accommodations for them."
The company has also mobilized temporary workforce accommodation in the Canadian Prairies for a government organization. And they've provided "additional space so employees can maintain physical distancing" says Regional Manager at Britco, Christoph Neufeld.
They also developed a product to tackle the problem of social isolation during the pandemic. It allows people to safely visit loved ones who live in nursing homes.
"We've converted some of our units into special visitation buildings for seniors' homes. The residents can meet their families in a way that both are protected," says LaBrie. "A plexiglass wall divides each unit, and residents go in one end, and visitors go in the other. They can visit and see each other, and although it's not as good as being able to hug, it's better than a Zoom call!"
Physical Distancing and Housing
Horizon North has also provided space for physical distancing. Co-Chief Executive Officer of Horizon North Logistics, Rod Graham, gives one example. "The Louis Bull First Nations group acquired some of our rapid response gear to allow for more physical distancing on their reserve just north of Red Deer, Alberta."
But the projects that Graham is most excited about are those that will provide permanent housing.
"Some forward-looking jurisdictions are working to flatten the curve now," Graham says. "But they're also providing safety and dignity in the long term for folks who perhaps aren't getting the same level of attention during this pandemic. They're looking beyond the pandemic and saying, 'We can make a real difference now'."
Providing housing for the homeless and other vulnerable people has long been a passion of Graham's. COVID-19 has exacerbated the need for everyone to have a home.
"This pandemic has highlighted a shortfall of infrastructure such as housing and medical space," says Joseph Kiss, President of Modular Solutions at Horizon North. "This crisis has been the impetus for many government agencies, cities, and municipalities to take a serious look at modular construction. They're seeing how it can help solve their problems in the medium and longer term."
Supportive or affordable housing projects in Toronto, Ontario and Kelowna, British Columbia, and in Hawaii, USA, have been fast-tracked because of the pandemic.
"The City of Toronto is proceeding with two supportive housing projects to help people who are currently homeless," says Graham. "These projects were in the pipeline already, but COVID-19 has been the catalyst for finalizing them. They will be on the ground at the end of September to mid-October."
Non-Space
Companies in the industry have helped in some creative and unexpected ways that don't involve building or deploying space.
For example, JMO Modular owns some road barriers. "We have hundreds of these things," says JMO Modular's President, Joe Helleny. "We rent them out for local festivals. They're used to direct people for ticketing."
The City of Marion called JMO Modular to ask if they could use the barriers for a different purpose.
"Restaurants in my hometown still can't serve inside, but they're now allowed to have tables outside. But they need to limit access and can't have people just walking in and out," Helleny explains. "The City thought those barriers would help maintain physical distancing. So we donated the use of them to help local businesses get back off the ground. When you help another business owner, you feel pretty good." Along with 'physical distancing', the term 'PPE' has become part of the vernacular during the pandemic — mostly because of shortages of it. Wilmot Modular Structures didn't have a problem with finding enough masks for their team, though.
"My son, Chris — who is also our videographer — has a 3D printer," says Vice President and Chief Operating Officer, Kathy Wilmot. "He started printing masks the first week of the pandemic, and we've been able to give masks to all our employees."
Chris Wilmot explains that each mask contains "a HEPA filter that's commonly used in HVAC units. It was perfect for what we wanted to achieve."
The PPE shortage was also addressed by Transhield, a company based in Indiana, USA. Transhield manufactures the wraps for modules when they go on the road or when they're stored.
When the pandemic hit, a hospital in Terre Haute, Indiana couldn't source enough protective gowns. They reached out to Transhield for help.
"Based on their design, we produced a prototype made with one of our thinner materials, so people wouldn't sweat so much when wearing it," explains Matt Peat, Executive Vice President of Transhield. "We sent it by overnight delivery to the hospital and they loved it!" Transhield produced a thousand gowns for the hospital.
"We were just covering our costs — but it was keeping our people busy until we had other work for them.Some of our senior executive even came in the evenings to help prep the material for the sewing staff."
Another hospital in Indiana contacted Transhield with a different need. In anticipation of a surge of COVID-19 patients, the hospital needed to increase capacity and turn single rooms into double rooms.
"They asked us to make washable privacy curtains to run between patient beds," says Peat. "Our non-laminated boat cover material worked. We put grommets in so they could run a cable through them and attach the curtains to the walls."
Collaboration
The pandemic has also prompted collaboration between modular construction companies.
Modular Task Force
Furio Barzon is the Founder and Chief Executive Officer of the Italian company, Green Prefab. Barzon saw the urgent need for healthcare space during the pandemic. He also saw the lack of production capacity to build it. So, he co-founded the Modular Task Force. The idea is that by sharing knowledge and by manufacturing a standardized product, the network of companies can quickly build hundreds of healthcare buildings.
"The Modular Task Force is a coalition of companies from 19 different countries in Asia, Europe, Africa, North America, and South America," Barzon explains. "Our intention is to deliver modular healthcare buildings — for the emergency, the midterm, and the long term."
By June, Barzon says that the production capacity of the Modular Task Force was "3,858 modular units per month, which is more than 600,000 square feet per month. 70% of this production is located in China." During the pandemic, members of the Modular Task Force have built:
20 short-term hospitals in China
1 intensive care unit prototype in New York City
1 military hospital for the NATO Support and Procurement Agency in Italy
1 permanent hospital in Long Island, New York
"The Task Force enables an international network of supply chains specialized in modular building solutions for COVID-19 and beyond."
Barzon says that the Task Force supports building needs that arise from "quick disasters" such as floods, earthquakes, and hurricanes. It also supports building needs resulting from "slow disasters". This includes "zero energy modular buildings" to combat climate change and also affordable housing that he predicts will be in greater demand because of the recession.
Modular Coalitions Form
Another collaborative effort is a coalition grown from seeds planted during MBI's World of Modular convention in Florida, USA in March.
"As the pandemic situation developed, we asked ourselves how our industry could help. And how we could protect the industry and try to ensure continuity of business," explains Vaughan Buckley, President of USA-based Volumetric Building Companies. "While we were at the conference, we started designing what became the SCUs [supplemental care units]. We wanted to produce facilities that could be repurposed for affordable or emergency housing after the pandemic was over."
The need for bed space turned out not to be as great as predicted, "so we haven't built any temporary-to-permanent space as we originally envisioned," says Buckley. "But there's strong interest in the SCUs as permanent space. And there's even more interest in supportive and affordable housing. We're currently working with 18 municipalities or states on product development, budgets, or logistics."
Buckley explains that these jurisdictions "see the coalition as a way to produce a vast number of units in a short time — especially for housing for the homeless. Standard homeless shelters can't prevent the spread of COVID-19 if they operate as a group facility."
The idea behind the coalition is that by having every member repeatedly build the same thing, "the product becomes more commoditized, which increases speed," Buckley explains.
Looking Forward
The pandemic has created challenges for everyone, and the modular construction industry is no exception. However, "We've been overwhelmed by how willing our members have been to share best practices and work together to help solve this problem," says Tom Hardiman, MBI's Executive Director. "We're extremely proud of the hard work and commitment from our members to step up and help address this pandemic on a global basis."
Many companies mentioned how the pandemic has prompted people from outside the industry to pay more attention to modular construction. "The modular construction industry," says Hardiman, "is in a unique position to help deliver much needed building infrastructure for both the short and long term in a safe and speedy manner."
Zena Ryder is a freelance writer who specializes in writing about construction. You can find her at www.zenafreelancewriter.com.
This article originally appeared in the Modular Advantage Magazine - July/August 2020 issue.